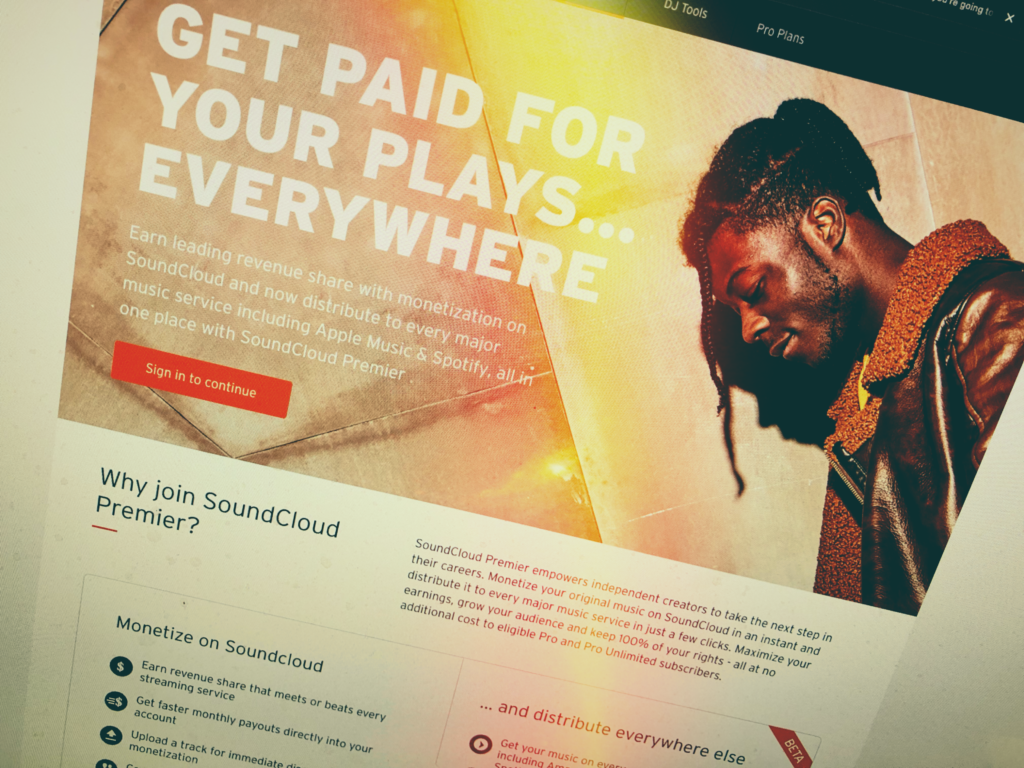 SoundCloud continues to make major moves … via MacRumors:
SoundCloud today announced a new feature that allows creators to distribute their music directly to major streaming music services like Apple Music, Spotify, and Amazon Music. The tool will be included in SoundCloud Pro and Pro Unlimited subscription tiers for artists, and each artist will get 100 percent of earnings back from each streaming platform, meaning SoundCloud won't take any cuts and won't charge additional distribution fees.
Note that a participating artist account will have to show at least 1,000 plays a month in regions where SoundCloud subscriptions and advertising are active. A SoundCloud Pro account ($6/month) seems to allow distribution of a single release — I assume that's per year, based on the yearly rate. The SoundCloud Pro Unlimited subscription ($12/month) gives the artist unlimited distribution.
This landscape is going to get a whole lot more interesting if the DSPs get into a sort of distribution battle. What features and analytics are coming to differentiate each of the services? I am sure these will exploit the advantages of being aligned with the native platform of the distributor — perks on SoundCloud, perks on Spotify. Dedicated distributors like Symphonic will still have a role as they offer expanded label services (playlist pitching, sync, publicity, etc.) that the streamers don't provide (yet). An advantage for dedicated distributors is they will pitch and promote across all platforms instead of mainly focusing on one. I doubt SoundCloud's distribution will pull much weight when it comes to Spotify placement and vice versa.
If you use Spotify or SoundCloud or — someday soon, I'm sure — Apple Music for distribution the choice will come down to which platform makes the most sense for you. Where are you strongest? Which streamer best aligns with your genre or brand? If you're a singles artist, releasing a song every couple of weeks or so, then SoundCloud is the platform for you. SoundCloud's design has always favored the prolific singles artist, and having these individual songs appear everywhere else is icing on the cake.
Is there a downside for SoundCloud? Part of the platform's appeal is an egalitarian approach to user content — anyone can upload anything — and the byproduct is a lot of music found only on SoundCloud. That's how 'SoundCloud rap' got its name after all — for a while, SoundCloud was the only place one could find those artists. If this distribution service makes it just as easy to upload content to its competitors, then SoundCloud could lose its tastemaking edge. Why keep anything exclusively on SoundCloud anymore?
Oh, and this is interesting, via Music Business Worldwide:
To use the toolset, these artists must also have no copyright strikes against their music on SoundCloud at the time of enrollment.
Obviously, this is meant to thwart the distribution of content not owned by the user (a big problem for these uncurated distribution portals). But it's also a clever way to make SoundCloud's users think twice before uploading those unauthorized remixes for distribution or otherwise. That said, it would be nice if there was a tool to show whether a DJ mix or remix would be flagged before it's posted, or if its content safely fell under the Dubset umbrella. It would suck to get flagged for a song innocently included in a DJ mix and have the distribution option deactivated as a result.
🔗→ SoundCloud Premier
🔗→ SoundCloud's New Tool Lets Artists Distribute Music Directly to Apple Music and Spotify
🔗→ SoundCloud is now a distributor: Platform launches tool for users to upload music to Spotify, Apple Music etc.