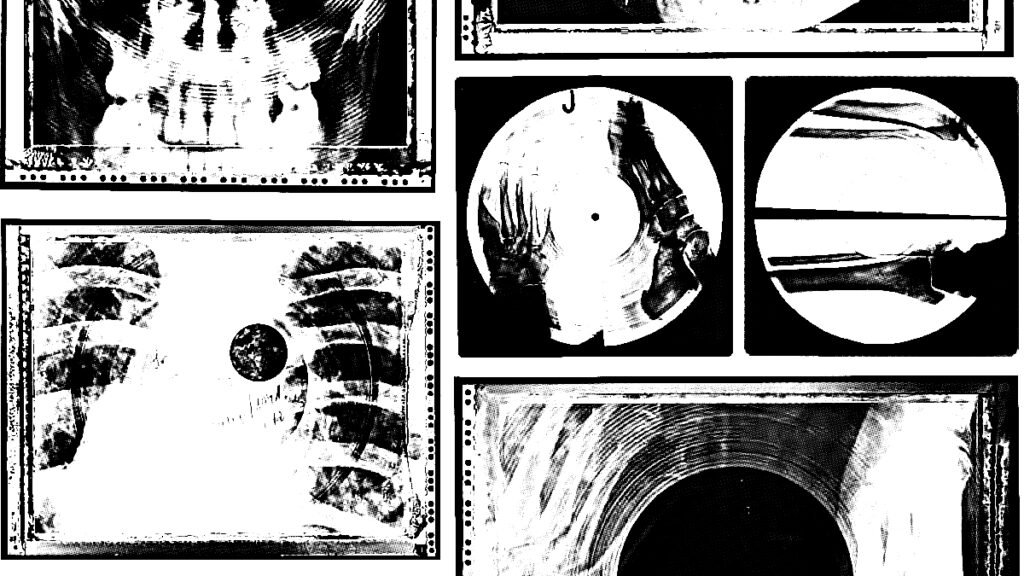 The latest Fugitive Waves podcast discusses the fascinating history of Soviet 'bone records':
Before the availability of the tape recorder and during the 1950s, when vinyl was scarce, ingenious Russians began recording banned bootlegged jazz, boogie woogie and rock 'n' roll on exposed X-ray film salvaged from hospital waste bins and archives.

"They would cut the X-ray into a crude circle with manicure scissors and use a cigarette to burn a hole," says author Anya von Bremzen. "You'd have Elvis on the lungs, Duke Ellington on Aunt Masha's brain scan — forbidden Western music captured on the interiors of Soviet citizens."

Listen to the podcast here:
These records only played on a single side, and the quality was low, but they were extremely cheap: A single disc only cost about one ruble on the black market, as opposed to five rubles for a two sided-disc. And it was subversive. According to Artemy Troitsky's 1987 book Back in the USSR: The True Story of Rock in Russia, they often contained surprises for the listener: "Let's say, a few seconds of American rock'n'roll, then a mocking voice in Russian asking: "So, thought you'd take a listen to the latest sounds, eh?" followed by a few choice epithets addressed to fans of stylish rhythms, then silence."

Soon, an entire underground network of bone music record distributors popped up, called the roentgenizdat, or X-Ray press. Analogous to the samizdat that reproduced censored publications across the Soviet bloc, the roentgenizdat was soon distributing millions of Western records.

Here's a great TED Talk on X-ray bone records where Stephen Coates asks the question, "What would you risk for the sake of music?":
And here's a lively debate over on Discogs.com on whether bone records should be included and cataloged on the site.