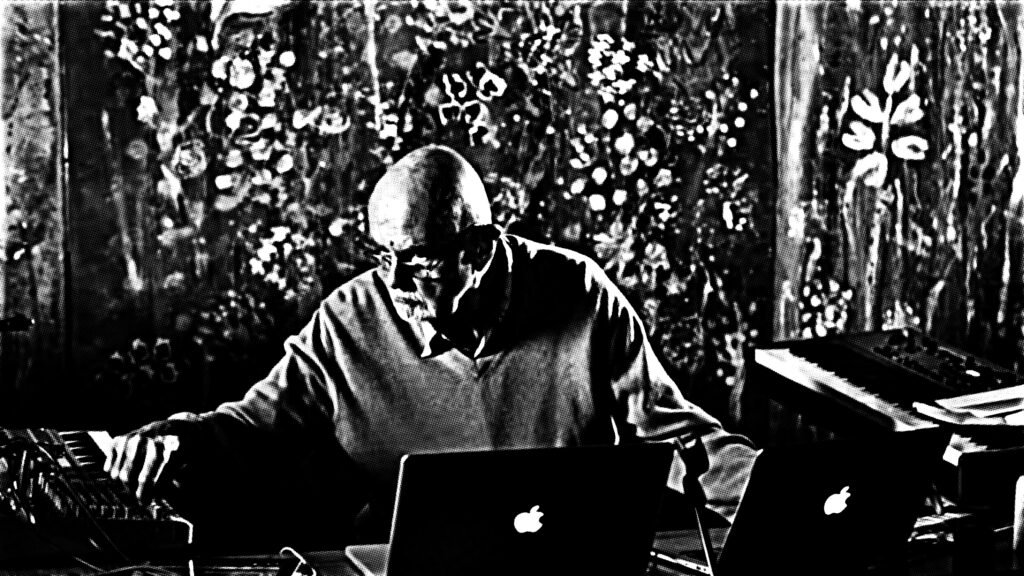 Hans-Joachim Roedelius is a gentle giant trotting through the timeline of kosmiche music (perhaps a better genre term than the maligned 'Krautrock' designation). As a giant, his influence is enormous, but Roedelius's quiet insistence on working diligently in history's background accords to his gentle demeanor.
Roedelius's role in the 1968 formation of Berlin's Zodiak Free Arts Lab spawned Tangerine Dream, Ashra Temple, and his own Kluster trio with Dieter Moebius and Conrad Schnitzler. Kluster transformed to Cluster a couple of years later once Conrad Schnitzler departed, and the now-duo adopted the more organic and tranquil sound that remains Roedelius's template. Famously, Cluster recorded two classic albums with Brian Eno — the second of which includes one of my favorite Eno vocal performances on "The Belldog".
To many, this '70s period is peak Roedelius, but he keeps riding the spaceways with a solo discography that's long and a collaborative discography that's even longer. And there's a newer incarnation of Kluster/Cluster called Qluster featuring Roedelius and audio engineer Onnen Bock.
Now in his late-80s, Roedelius is going strong, still composing and producing melodic, experimental music. He continued to play shows and tour internationally right up until the COVID blockade. In March of 2017, I was lucky to see Roedelius perform at Orlando's Timucua White House. I wrote briefly about that show here where I called the music "experimental and quiet, not at all jarring, and serenely [transmitting] the artist's feelings in a tumultuous world." Afterward, I met Roedelius, who was cordial and talkative. He even told my friend who regularly visits Germany to "look him up" on his next overseas journey.
❋-❋-❋-❋-❋-❋-❋-❋
As always, I'm fascinated with the creative habits of different artists. I ran across a couple of older interviews with Roedelius on the music magazine archive site Mu:zines and found a few notes about his process. In this 1984 interview, Roedelius describes an improvisational cut-and-paste method that is emblematic of the kosmiche pioneers:
I usually do most of the recording at home. Whenever the mood takes me, I sit at my piano – a lovely old Bosendorfer grand, over 100 years old – and play, and I put everything I play on tape. Then I play back that tape and select the best parts from it, and work on them until I'm happy with the way they sound.'
The piano features heavily in Roedelius's music, and, indeed, it's the starting point for most of his compositions. Treatments, synthesized sounds, and collaborating musicians get added once the edited tape is ready. Here's another 1984 interview where Roedelius describes the recording of his album Gift of the Moment:
I have a grand piano at home and the basic album tracks were recorded there using a Revox A77 in stereo at 7½ips, I made sure I got 'space' on the tape, then I went into the studio in Rotterdam and transferred the stereo recording onto one track of the 4-track — the album was done on 4-track with dbx — and then I started adding to the music using the different instruments…
❋-❋-❋-❋-❋-❋-❋-❋
I bring up Roedelius because there are two new opportunities to discover and appreciate his music. First is the latest episode of the excellent SOUNDWAVE podcast featuring a retrospective mix compiled by Roedelius himself. This nearly 90-minute selection is the perfect primer for anyone seeking a historical sampling of Roedelius's output. It's also fascinating to hear the songs that Roedelius includes, whether these are his favorites or just pieces he thought were the best fit for a podcast mix. ("The Belldog" makes an early appearance.) Hearing Roedelius's decade-spanning output in a curated context emphasizes the timelessness of his music.
Next, here's a rare (maybe the only?) Roedelius livestream performance from a little over a week ago. I received a text from my sometimes-Germany-visiting friend alerting me that Roedelius had just started a "surprise" livestream. I tuned in, and there he is, deep in concentration, beaming haunting sounds from a pair of laptops, an iPad, a controller, and a pair of keyboards. This performance is a mix of its own, featuring a few Roedelius classics, and it drifts pleasantly into your surroundings. Listening live, I lost myself in these sonics, writing several paragraphs and achieving that hallowed 'flow state.' But, if you attempt the same, be warned that Roedelius's vibe is interrupted a couple of times by his laptop's notification pings. And then there's the endearing moment just past the halfway mark where Roedelius walks off for a moment after announcing, "I have to go for a pee." Serious music doesn't have to be so serious after all.