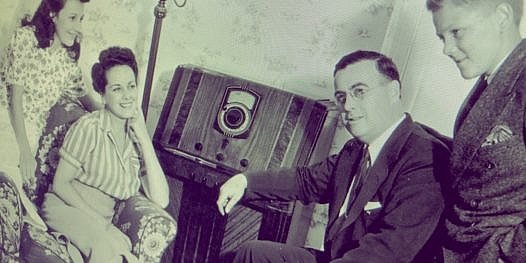 It may sound bizarre, but today parents and their teenage children actually attempt to hang out and listen to music together. This was not always the case. "Larry, the president of the company, likes to say how his mother thought that his rock and roll was not even music," [Edison Research's Megan] Lazovick says. "They could not relate at all about music. It seems generationally a lot different today. There seems to be a lot more connection over music with parents and their teenagers." […] Edison Research found that 76 percent of parents and 60 percent of teens agree with the statement "listening to music is a bonding activity for you and your teenagers."
I can't even imagine. I remember my parents mildly flipping out when they found a copy of the Dead Kennedys' Plastic Surgery Disasters in my bedroom — one of many times that I was questioned on the music I was listening to. These days it must be a lot more difficult to rebel when your parents grew up listening to Beastie Boys and Marilyn Manson (or maybe even GG Allin!). I think that's one reason gaming videos are so popular — it's a phenomenon that today's parents can't wrap their heads around.
Some more from the article:
When the two demographic groups can mingle without embarrassing and infuriating each other, osmosis occurs, and parents start to stream more often. 68 percent of the 1,909 parents surveyed agree with the statement "your teenagers assist you with new technology," while 52 percent say they learned about a streaming service from a child.
Intuitively to me, both of those percentages seem quite low. But we can expect the way we — and the older population — listen to music to continue transforming, both as tastes simultaneously broaden and merge, and convenient (and democratized) technological solutions overtake a restricted, ad-supported FM bandwidth.
🔗→ Teenagers Are Teaching Their Parents to Stream, and Radio Is Nervous

On our blog about "music's place in the 21st century" we rarely get to write about anything as futuristic (in a 'shape of things to come' way) as this, via Music Business Weekly:
Yesterday (February 2), DJ star Marshmello played an exclusive in-game concert in Fornite at 2pm ET. Fortnite players could watch the virtual show for free, so long as they made sure their avatar was available at the concert's location (Pleasant Park).

The numbers are now coming in on the event's audience, and they're mighty impressive: according to reliable sources, over 10 million concurrent users witnessed Marshmello's virtual concert. These people's in-game avatars were all able to hit the virtual dancefloor in front of Marshmello's own avatar and show off their moves.
Mark Mulligan in Music Industry Blog:
For my son and his friends this was every bit a shared live experience, each of them talking to each other via Xbox Live and dancing with each other on screen. In-game live experiences like this are nothing new, but it may just be that we are beginning to get to a tipping point in shared gaming experiences for Gen Z that will shape their entertainment expectations for years to come.
and Darren Hemmings in the Motive Unknown newsletter:
I tweeted over the weekend that this brought to mind when US rock bands of a certain age talk about the influence KISS had on them. Often it wasn't about the music so much as the spectacle of it all, and how much that impacted them as a child or teen. I think there's parallels here; these are the kind of great experiences that really get fans hooked in, and strikes me as a colossal win for Marshmello as an artist.

At a point where I often grumble that innovation is drying up in music, this proved to be a fine example of how great things can come together to make a massively successful event for all involved.
Marshmello's DJ set is also now exclusively available on Apple Music, no doubt a high-profile pay-off of the streamer's association with Dubset.
Video games took some of the blame when music industry profits declined in the late-90s/early-00s. We reasoned that kids who once spent their allowance on music were instead using it on games. There was probably some truth in that, setting up tension between the game and music industries. But we're now starting to see cooperation in marketing games and music that's going leaps beyond background songs and Guitar Hero. And as journalist Cherie Hu talks about on a recent episode of the Music Tectonics podcast, the integration of music and non-music media and interactive entertainment may be the big music business story of 2019.
Regardless, we've come a long way since this:
🔗→ Marshmello just played a live set to 10m people in video game Fortnite
🔗→ Marshmello Just Live Streamed on Fortnite…So Just What is a Concert?
🔗→ Marshmello's Fortnite concert shows it should be done