I've always held a fascination for musical artists that started as painters — Brian Eno and Captain Beefheart come to mind — but it's often impossible to find a key to their music through their visual expressions. Not so with Felix Laband. The South African recording artist's sonic output stands side-by-side with his collage art, with his pieces adorning the covers of his albums from the very first, 2001's Thin Shoes In June. The subjects of Felix's collages are fractured, spare, and dramatically chopped. You might find animal life, anguished faces, African imagery, drab buildings, vague slogans, and pervy goings-on. And the collages, intentionally or not, accompany and unlock Felix's music, especially his latest album, The Soft White Hand.
Supported by a canvas of bright pigments in tone and melody, the citizens of Felix's collages reside in his songs. Field recordings, animated dialogues, newsreel announcements, and undefinable intonations twist and bend in context — the mundane becoming bizarre, the bitter becoming joyous, the pleasant turning ominous. Felix's label, Compost Records, delves into this aspect in the album's press release:
"My music is always about collage, as is my art," [Felix] affirms. "Everything I do is collage. It is a medium I find very interesting because you are taking history and distorting it and changing its meaning and turning it upside down and back to front." In her book Recollections of My Non-Existence, Rebecca Solnit calls collage "literally a border art"; it is "an art of what happens when two things confront each other or spill onto each other."
The music on The Soft White Hand can exist and satisfy without the insertion of collage. But the collage and the nature of its sample-play transform the album into personal reflection. With some attention, one can grasp Felix's reservations and struggles — as a South African in a powder keg, as a sufferer of substance abuse, and of feeling abandoned and rejected in a world that's lost control of itself. But despite the turmoil, the construction of The Soft White Hand has a deliberateness and a lightness. The album is sonically crisp — the melodies tend to sparkle, the rhythms can't help but gyrate, and the low end is tough and resolute. Felix is an electronic music producer's producer (like someone deemed "a DJ's DJ or a writer's writer"). The stereo spread is full and cosmic, open for study and ready to yield surprises on repeated listens. The Soft White Hand can't be easily defined but feels close to something we already know.
Some months back, I interviewed David Sanborn (alongside his crafty wife, Jennifer Huber) for an expose on the extreme mischief of their Kraftwerk fandom. I was also aware that David is a devoted fan of Felix Laband's art and music. In 2017, David bought one of Felix's collage works and had it shipped from South Africa at a not-insignificant expense. The piece is fantastic, and I've admired it on David and Jennifer's wall many times. This purchase inspired a correspondence between David and Felix, and they became regular internet acquaintances. So, when Felix appeared on my radar as an 8sided interview subject, I immediately thought of David. Who better to talk to this enigmatic artist?
My instinct paid off. As you'll hear in the interview audio below, these two had a mutually generous and strikingly personal conversation about life, Felix's music, the state of the world, South Africa, and much more — along with many humorous asides. Here's what David wants you to know about this interview:
My pal Michael asked me if I was interested in interviewing Felix Laband, a South African composer of sublime electronic music I've long admired, to which I replied with a hard YES and an emphatic affirmative. I spent days relistening to Felix's back catalog, making notes, and hoping to create a dialog complementary to his aspirations. In short, I was dedicated and thrilled about the opportunity. In retrospect, I may have over-delivered as Felix was a charming and fascinating man who shared some unique interests and opinions with me, so the sprawling recording I handed Michael to prune down to something manageable exceeded two hours. Michael: I'm sorry. Had I not asked every question and lifted every rug, I wouldn't have stumbled on our shared loathing of dubstep, a shared loving of the film Withnail & I, and the dirt on Die Antwoord. I hope this interview shines a spotlight on an artist who deserves so much more than he's received.
I managed to edit this fascinating chat down to one tight hour, and I threw in a few interludes using music from The Soft White Hand. In addition to what David mentions in his paragraph, the two discuss the perils of addiction, why you shouldn't ask your elders to translate Einstürzende Neubauten lyrics, the meanings behind some of the album's samples, finding lewd photos for salacious collage art, and why David would rather interview Felix than Ralf Hütter of Kraftwerk.
A big thanks to David Sanborn for conducting this interview (here's his blog, which he should update more often, nudge nudge). What follows is a transcripted excerpt from the conversation, which begins with Felix wondering if he should leave South Africa as he and David explore a frequent artistic malady: self-doubt. If all this piques your interest, please enjoy the entire conversation in the handy audio player. It's a good one.
❋-❋-❋-❋-❋-❋-❋-❋
FL: Obviously [I could emigrate] to Europe because my record label, [Compost Records], is there. Probably Berlin to start with, just because it's central and I have a lot of friends there. But this war is making everything quite difficult. I'm quite nervous.
DS: Yeah, the whole world feels destabilized, and a lot depends on the outcome. But that brings us to a catch-22. What is Felix Laband without South Africa? I think for a lot of artists, the struggles they experience make their music possible. I want to see you live somewhere where you're safe, and you're happy. But does that mean the music will continue, or will you give a big sigh of relief and just try to live your life happily?
FL: I think the music will continue. But perhaps, and this might sound a bit odd, what I think about a lot is studying music [abroad] now that I'm a bit older and more mature. Perhaps I would take it seriously, like maybe classical music or, in particular, chamber music, which is what I'm really into. I don't have any formal training. I feel like I've reached the point where my ideas are getting boring, and I'm not capable of thinking in terms of big chords and stuff like that. I feel like that might open a whole new chapter in my experience with music.
DS: I don't want to come across as pandering, but you know I'm a big fan. I think The Soft White Hand is brilliant. It's a cracking album. My wife and I went to the UK for the last three weeks and rented a car. We drove from Scotland all the way down to the Isle of Wight, and we listened to your album like half the time.
FL: Beautiful.
DS: And you talk about expanding your musical palette with some formal training. But I've got to say that this album is as close as electronic music gets to chamber music. There are elements to that album that remind me of the French composer Johann Pachelbel, for example. There are melodic elements that remind me of Philip Glass. And yet here you are saying you don't feel that you're as good as you could be. And I'm sure that there's probably some truth to that in your mind, but I think you might also be a little, um … what's the word I'm looking for? A lack of ego, perhaps.
FL: I appreciate you saying that. It means so much to me because I do feel like this album is a lot closer to where I want to be. I've been banging away trying to make this album for about six or seven years. And it only came together in terms of a concept, of something I was feeling confident about, maybe in the last year. That was after I was in a weird relationship with somebody a lot younger than me. It was quite a traumatic relationship, with a lot of fighting and stuff, but she helped me have a proper look at what I'm doing. She was right about a lot of stuff, and it pushed me a bit. That led to a bit more confidence in what it is that I actually want to do.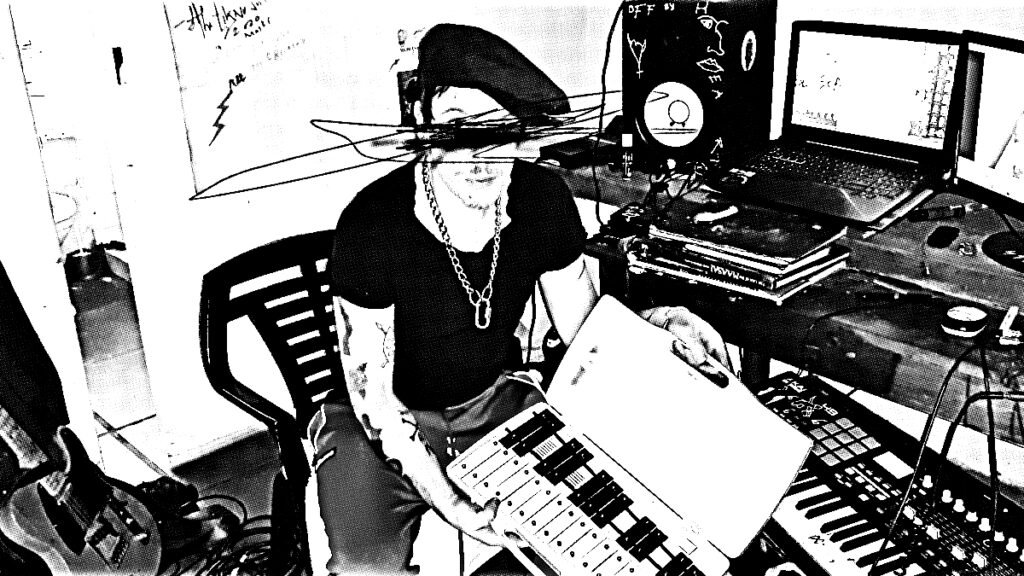 DS: Would you like to attend a university, or is there somebody you would like to work with who could impart knowledge?
FL: I'm told that, because of my experience [as a recording artist], if I had to apply to a university, I might have some way in even though I don't have any training. But I don't even know what's out there. I just think it might be quite interesting and push me to embrace that style of thinking.
DS: A common element of this album — and in most of your music — is a purity of sound. You use bells and other things that have a pure tone. There's no distortion. When I listen to how hard you work on your music to make it perfect, it's telling that you feel you could be a better musician. I know this isn't news to you, but you don't ever use the same drum break twice. You're never just cutting and pasting four-bar loops. What causes that need for perfection? What makes you go for this particular sound?
FL: That's such an interesting question. You know, if I were going to heaven, I would be on a sine wave. (laughs) I've always loved that tone. It speaks to me, that sort of sine wave tone. And I do love bell sounds and things like that. It's interesting because distortion was something that I was super into at a certain point in my life. But I do find it quite difficult these days, especially in electronic music.
DS: There's such purity in your music. There's no distortion at all. It's some of the clearest, cleanest stuff I've heard.
FL: I suppose it feels right to me. I mean, some tracks evolve over a long time. They might have started as something completely the opposite. I tend to work with things that I've done previously when I realize that it fits with something I'm working on now. I'll merge them together. But when I feel it's perfectly married and finished, it's often clean in tone. Although, that's not a conscious idea. It's interesting that you brought that up, as I haven't thought about it. You're right.
→ Felix Laband's The Soft White Hand is out now on Compost Records. You can find the album on Bandcamp, as well as all the streaming spots. To check out some of Felix's collage art, visit his Instagram page.