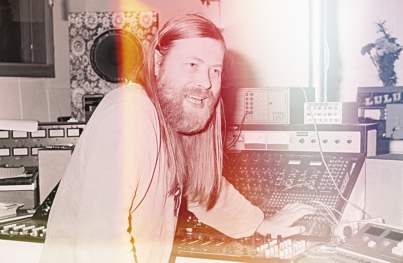 The documentary Conny Plank: The Potential Of Noise was more touching than I expected. The film is a collaboration of director Reto Caduff and Stephan Plank, Conny's son. Stephan drives the documentary as conversations with musicians who worked with Conny Plank help him understand and rediscover his father.
Conny Plank died of cancer at 47 when Stephan was just 13. A lot of Stephan's memories of his father revolve around these odd musicians who stayed and worked at the farmhouse studio. Often the musicians would join the family for dinner (indulgently prepared by Stephan's mother Christa), and they would become Stephan's temporary playmates in between sessions. So, in this documentary, Stephan is meeting people who not only have perspectives on his father but are also part of shadowy childhood memories. The musicians are also taken aback — the last time they saw Stephan he was a child and an oblivious studio mascot.
The highlight of the documentary is Stephan's meeting with the classic rap duo Whodini. Did you remember that Conny Plank produced part of Whodini's first album? I forgot, too, until this film pleasantly reminded me. Whodini was an upstart act in their late teens, suddenly flown to a farmhouse in rural Germany in a bold choice by their label. The duo grew to love the eccentric but brilliant Conny Plank, and this love and respect pour out of their interview segment. Stephan is visibly emotional as he hears another warm story of the universal impact and guiding influence of his father. Even I choked up a little.
There's so much more in this film, including interviews with Michael Rother (Neu! and — early on — Kraftwerk guitarist), Eurythmics' Dave Stewart (who may have been the last to work with Plank), and Holger Czukay (Can). Czukay comes off as kind of a jerk in his honesty about how Conny cared more about his studio than his relationship with his young son. It seems that Stephan has come to terms with this.
Noticeably absent is Brian Eno who stepped into Plank's studio on more than one occasion. A section on the recording of Devo's first album allows Eno most of his screen time, and that's given to Gerald Casale talking about how he didn't like Eno's attempt to add his 'pretty' vocals and synth lines throughout the record.
Conny Plank: The Potential Of Noise is inspiring and a stirring tribute to a person who lived the creative life. But most of all it's the story of a son finding his talented but distant father. With Father's Day approaching, I can't think of a better movie to watch, especially for those of us missing our dads.
Conny Plank: The Potential Of Noise currently streaming on Amazon Prime and available as a 'rental' on other services. And here's a fine interview with Stephan Plank about the documentary. For what it's worth, I'm pretty sure the no-show Stephan refers in that piece is Eno, not Bono.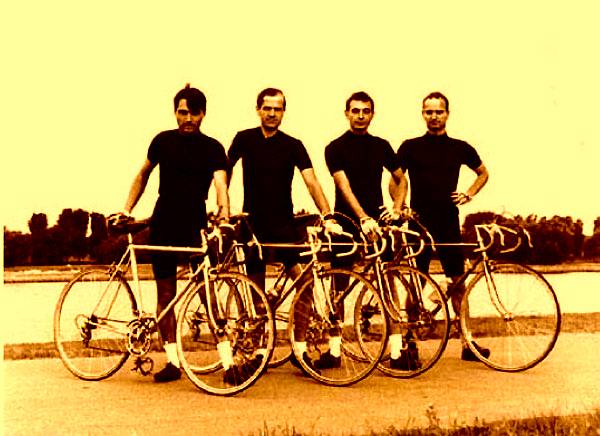 There's a misconception that sampling has a time limit, that one can legally sample anything (a drum hit, a vocal yelp, a guitar riff) as long as it's short. I've heard various guidelines set for this assumption with the two-second mark as the most common. It's not true. If a judge or jury can identify a sound — any sound — as originating from a copyrighted source, you're probably in trouble.
Granted, the US courts have not been consistent in how they rule on this, and it's fair to say there's no set precedent here. But, in the EU, this may no longer be the case thanks to repeatedly snubbed Rock-and-Roll-Hall-of-Famers Kraftwerk and the synthesized sound of banging metal.
via Billboard:
The case involves a two-second sample from "Metall auf Metall," which the producers Moses Pelham and Martin Haas used as a continuous background loop in the 1997 song "Nur Mir." Although the sample consists of just two seconds of the original song, it's recognizable and important in "Nur Mir," which is performed by the singer Sabrina Setlur. […]

… Advocate General Maciej Szpunar advised the European Court of Justice, which is deciding a copyright case that involves Kraftwerk's "Metall of Metall," that even limited sampling of a recording can constitute copyright infringement. Advocate General opinions are not binding, but they're watched closely, since they often predict the way the high court of Europe will decide cases.
The case is interesting as it involves only the recording (master) side of the music and not the composition (written song). The idea is that one can take a 'sample' of a written song in isolation — such as a couple of notes or a few words — and it would be too general to constitute infringement. The failure of the recent "haters gonna hate" lawsuit illustrates this. But a recording is specific, easily traced to its rights-holder. Complete Music Update once again provides the most helpful explainer:
Basically, when you sample a two second clip of a track, you are sampling both the recording and the song contained within it. But it might be hard to argue that the two second snippet of the song can be protected by copyright in isolation. However, at the same time you could argue that the two second snippet of the recording is.

The 'Metal On Metal' case centres on the recording rights. In essence, in the 2012 court hearing, when one argument on the Kraftwerk side was that Pelham could have recreated the sounds he sampled, they were basically saying that there was no song copyright to infringe here, but that the separate recording copyright had been infringed by the uncleared sample.
In his ruling, the Advocate General wrote, "A phonogram is not an intellectual creation consisting of a composition of elements such as words, sounds, colours etc. A phonogram is a fixation of sounds which is protected, not by virtue of the arrangement of those sounds, but rather on account of the fixation itself." Feel free to substitute 'phonogram' with 'recording' as you read that.
Some of the questions referred to the European Court of Justice involve details of European law, including whether the German concept of free use is compatible with EU law. But others get to the center of the debate around copyright and free expression. Generally, most countries' courts have held that quotation doesn't infringe copyright when a new work refers to the original one – in a book review, or even in a parody of a song. But what about when the new work has nothing to do with the original? Such questions have increased urgency in the digital age, and this is one of several important cases on the topic.
I wonder if this will create more consistency in how the courts rule on 'short sample' cases in the US. And I also wonder if New Order ever had to pony up for their own short Kraftwerk sample in "Blue Monday."