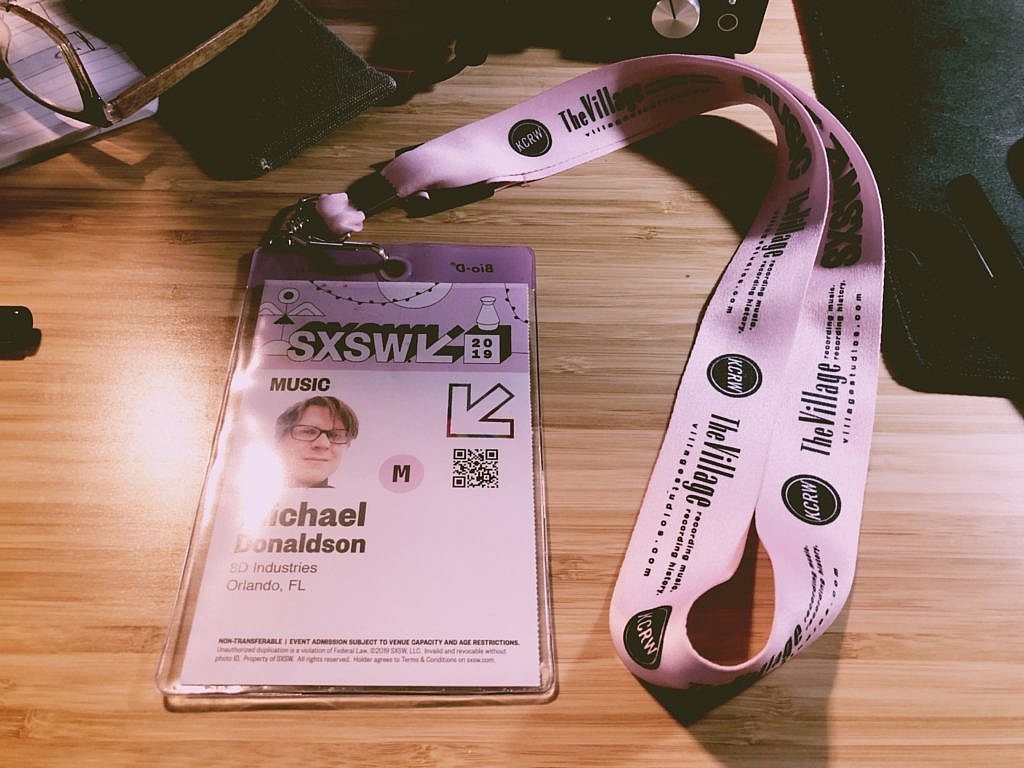 I've been back from Austin and SXSW for over a week, but I'm just now feeling refreshed and up to speed. It's taken a little while to process everything, as is always the case with these industry conferences and their non-stop agendas. A short recap, you say? Okay, here you go:
This is the year I attended SXSW solely as a music business professional. Previously I was an artist, performing at various showcases. Then my only worries were finding my way to the label-provided hotel room, doing well at the gig, and hanging out and having drinks with various music friends also in town. This time I flew to Austin to get down to business. I went to catch the mood, feel the vibe, put a wet finger to the wind to determine where it's all going, and network network network. I'm not sure if I'm any wiser about the future direction of the music industry and I didn't meet as many new people as I thought I would (though I made a few great new friends), but I'm satisfied with my SXSW experience.
It was maybe a decade ago that I last made it to SXSW. It's difficult for me to understand how much things have changed (and grown) as I never went to the actual conference. But when I told people that this was my first time in ten years, the reaction was always "well, it's different" followed by an exasperated look of 'whew.' I won't lie — it was busy. Everywhere you looked you found small groups of people with badges hanging from their necks. There were also ride-share scooters all over the place, and often the sidewalks and pathways were clogged with semi-inebriated attendees perilously dodging on-foot people like me.
When most people think of SXSW, they think of all the bands. I mainly partook in the actual conference, checking out panels and having a few scheduled 'mentor sessions.' Those sessions were opportunities to sit with a person of note in the music industry and pick his or her brain for fifteen minutes. Fifteen minutes isn't much, but I came prepared with set questions for the veteran music publishing professionals I spoke with. It seemed like a brain-numbing exercise for the 'mentors' as the sessions were one-after-the-other, fifteen minutes in-and-out. 'Speed dating' was mentioned more than once. I did get some value — it's like asking a lawyer that burning legal question that's been sitting in the back of your brain, and without incurring the hourly rate.
There were some meaty panels, too. I wish I had gone to more, but I ended up mostly running around finding people and having last-minute meetings. I checked out an in-the-weeds panel about contract negotiation (totally my kind of thing) and a terrific panel about how label A&R has changed over the past several years. My friend Craig Snyder was the moderator for the latter, and there was a bit of enlightening information thrown around. Notably, Island Records' Alyssa Castiglia — a proponent of data tools — put to rest the myth that modern labels now sign acts based on data alone. Instead, data is used to spot trends as they happen, guiding the type of artists for a major label A&R scout to seek out.
And of course, there were bands. 8D Industries flagship band, Monta At Odds, performed — with a new singer and drummer — and sounded excellent. This band is transforming/mutating in real time, and there will be new recordings by the end of this year to document these changes. Other fun bands I saw included Mary Lattimore (sunset by the lake with bats in the air!), The Comet Is Coming, Heart Bones (Robbie Hardkiss and I were laughing our asses off), The Octopus Project, Anemone, and Palberta. It may seem like I saw a lot of bands, but my efforts paled in comparison to my badge-wearing peers.
I'm glad I went, and I'm happy I'm home. I'll be back next year, I'm sure. And now I'm gearing up for the next conference on the agenda — Nashville's MusicBiz 2019 in early May. Reach out if you'll be there, too.