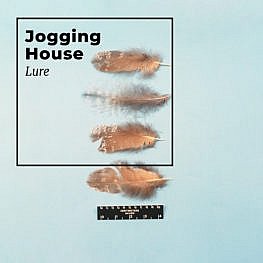 There was this charming quality to a lot of ambient music in the '90s — optimistic and melodic, far off from today's dominating dark drones. It was a different era, and perhaps the sound reflected a rosy view of what awaited in the new millennium. But what we find in the 2010s are the hushed rushes of disconcerting noise and queasy clashing of synth lines, an ambiance of tension and uncertainty befitting our times. It makes sense — the world is an increasingly scary and debilitating place, and sometimes our music sounds like it. But optimism is resistance — it really is — and that's what makes Jogging House's latest album Lure so welcome, special, and quietly radical.
Jogging House — whose name is apparently a letter added to 'jogging hose,' AKA sweat pants — states the album is "about accepting the things we cannot change and finding comfort in uncertainty." This philosophy is the pragmatism of the stoic, and it's also not being paralyzed with helplessness when the world is out of control. Staying in motion and hopeful as an artist and creator rather than blocked and immobile in the face of hourly 'breaking news' and topical turmoil. That's resistance.
I want to connect Jogging House to Brian Eno, but not to compare him to another composer working in the 'ambient' realm. Instead, I think Lure's songs closely reflect something Eno said in an interview: "One of the reasons one makes music or any kind of art is to create the world that you'd like to be in or the world that you would like to try. You would like to find out what that world is like." That's how I feel when I listen to "Tulip," Lure's opening track. It's transportive — light and playful, melodies as aspiration and reassurance that's calm and kind. And it's gorgeous, on the verge of sadness but not quite getting there. This is a world I'd like to try.
The album's eight tracks share this gentle atmosphere, evoking a separate era. It's the optimism of the past looking forward, like the mentioned-above '90s electronic acts but also not too far from those pioneering the form in the '70s. I'll give in and sonically connect Eno anyway, as the beautiful "Weavings" wouldn't be out of place on a Cluster album. Lure was recorded on 1/4″ tape, after all, using a variety of not-in-the-box gear.
But I emphasize this isn't merely a throwback — it's music fit for our times. These sounds are an encouragement to persevere rather than wallow; to foster hope and the imagination of something better for us all. You may ask, how can something so serene inspire action? It can, I respond. It really can.

Listening to F ingers is a ghostly occurrence, not of the floating sheets kind but that of an occupied space, occupants unknown. Just as stylized cinematography or purposefully scratchy film grain can feel like an additional character in a movie, F ingers' lo-fi, mumbling production imagines a confined architecture and a smokey mist seeping through door cracks. I'm cautious but entranced.
Comprised of Australians Carla Dal Forno, Tarquin Manek, and Samuel Karmel, F ingers reveals (to me) Awkwardly Blissing Out, their second effort for the deservedly hip Blackest Ever Black label. There are only six tracks, but there's much to digest here. The album recalls the experimental DIY production renaissance of the cassette crazy late '80s/early '90s, including work by a few forgotten New Zealand sonic scientists (for hemispheric relevance). These influences have layers, and I'm driven to find pieces of Brian Eno's "In Dark Trees" within "All Rolled Up" and the DNA of Cabaret Voltaire's Red Mecca wrapped around the album's title track. But it's the deliberate aural claustrophobia that's striking, relieved momentarily by Dal Forno's lovely, sing-songy – and somewhat disembodied – vocals. The compositions exhibit a restrained improvisation, seemingly deliberate when listened from top-to-bottom, but there's frequent evidence of the 'happy accident.' For example, that relatively catchy synth motif in "Your Confused" isn't improvised in the notes played, but in the playful tweaks of processing and timbre.
There's perhaps this movement away from the pristine and the technical in music production. The surprise is the evocative nature of the imperfect, whether a wistful mood inferred from a ruined tintype photograph or a chill-on-the-spine delivered via a crumbling homestead. Awkwardly Blissing Out masterfully transports the listener in this way. It's a nice and spooky place to visit, though you probably wouldn't want to live there.