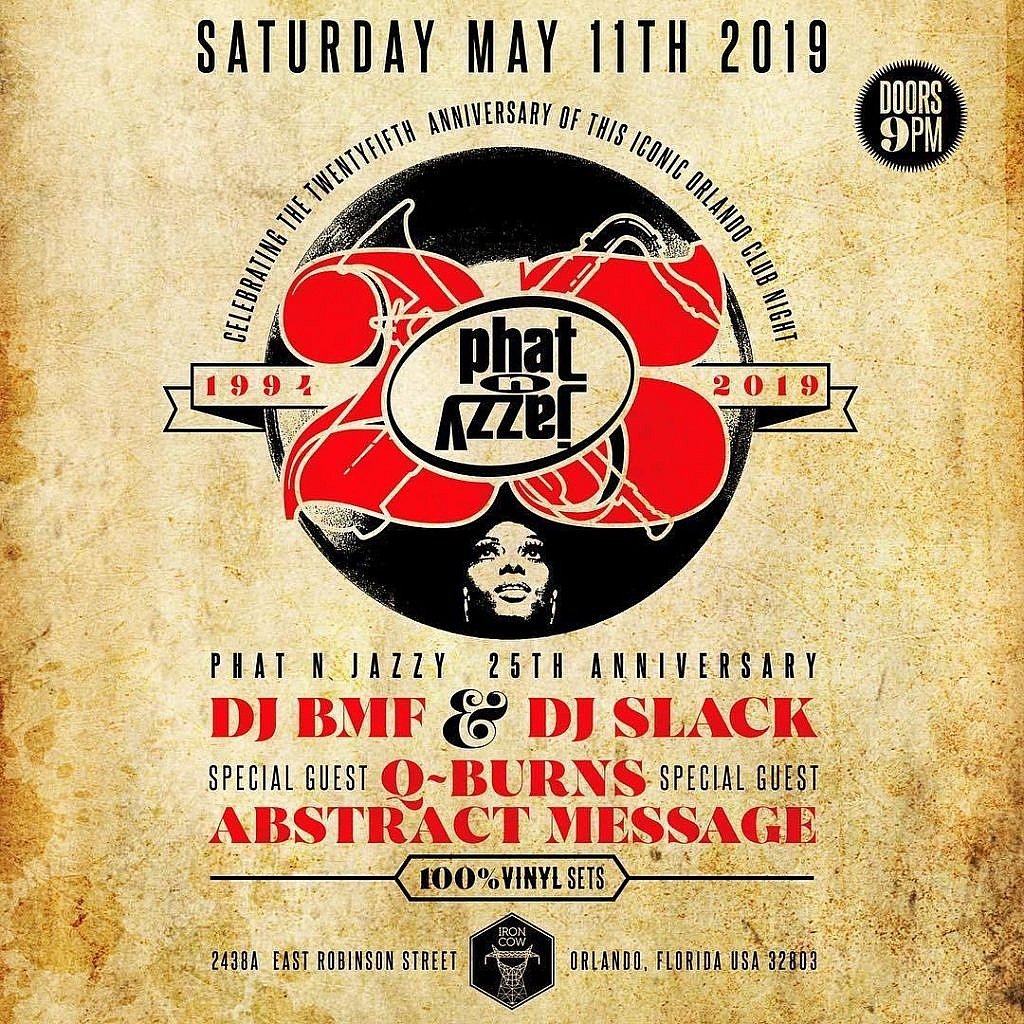 I'm gearing up for a few days at MusicBiz 2019 in Nashville, starting on May 5. I'm expecting terrific panels, productive meetings, new contacts, seeing some old friends, and perhaps an announcement or two from my camp. If you are in Nashville for this conference, then feel free to drop me a line and let's meet up.
The first Q-Burns Abstract Message release since 2011's "Balearic Chainsaw" is out now on 8D Industries and it's called AUDIOTOTEMPOLE. This is a special release, and it closes a loop of sorts. These are songs spanning the years. The one with '1997' in the title is that old, and I completed the newest track three months ago. I think that I can now move on to new pastures, new sounds, new — and more frequent — Q-BAM releases.
Additionally, on the Q-Burns Abstract Message front, I'm breaking my DJ retirement for one night to play at the Phat N' Jazzy 25th anniversary party. There are only a few things that would get me to DJ again and this party qualifies. Twenty-five years ago I had a weekly gig playing spacey trip hop records in the backroom of Phat N' Jazzy at The Beach Club. It was my first residency, and it's where I honed my DJ craft. I'd probably be in a different place today if the P'n'J crew didn't trust me to command the backroom vibe. For the May 11 anniversary party I'll be playing the tunes from that classic era, or at least the ones I still have on vinyl.
Consultancy: I'm currently working with Reza of Vexillary, Deepak of Hidden Recordings, and I'll be advising Snax once again starting next week. A big thanks to my clients for being on board and receptive to some crazy (but effective!) ideas. I'm expanding the consultancy into special one-on-one workshops over the next couple months.
Soon you'll hear me blabbing about music industry stuff on the This Is Orlando and Scotch and Good Conversation podcasts. I also did a long interview with the site MyMusicMoments that I feel good about. I'll post links to all of these in the blog once they're online.
Listening (music):
• Simon Scott – Below Sea Level
• Khotin – Beautiful You
• Mary Lattimore & Mac McCaughan – New Rain Duets
• Kankyō Ongaku: Japanese Ambient, Environmental & New Age Music 1980-1990
• Helado Negro – This Is How You Smile
• The 180 Gs – Commercial Album
• Revisited Sonic Youth's Sister and Mission of Burma's Vs. in a big way.
Listening (podcasts):
• Cherie Hu's relatively new Water & Music podcast is great. Stellar music industry commentary. Check out the episode with Amber Horsburgh for starters.
• On Russell Brand's Under The Skin, I enjoyed the conversations with Douglas Rushkoff and Derren Brown.
• Bob Lefsetz's podcast is back, and the episode with Billy Bragg is a lot of fun. I especially enjoyed the history lesson on skiffle.
• John Livesay's appearance on Big Questions With Cal Fussman was super-insightful on the topics of marketing and developing stories.
Watching:
• Cold War
• Free Solo (inspirational)
• Silent Light
• We finished The Americans. I was unsure for the first couple of seasons but we hung in there which paid off … the show got really good (as I'm sure you've heard).
• And, sure, we're watching Game of Thrones. And Gay of Thrones.
Reading:
• Finished Bobby Fischer Goes To War which was fantastic, though it did wind down a bit mid-match (and 3/4 into the book) once it became apparent that Fischer would win. I wholeheartedly recommend it, though. One big complaint: the book mentions throughout that Bobby Fischer often listened to 'rock n' roll' while preparing and practicing, but there's no mention or clue as to the records of bands he liked. I want to know!
• I'm now halfway through Neal Stephenson's Snow Crash after multiple people coincidentally recommended it to me over the same few weeks. Confession: this is the first fiction book I've read since 2001. No idea why I gave up on fiction, but I've meant to get back into it. So far so good — I'm enjoying Snow Crash, though I still am not sure what it is about the book (or me) that inspired various friends to point me to it.
Misc:
• I started using Focusmate over the past few weeks. I'm using it right now. It's a game-changer — expect a blog post about this soon. In the meantime, here's the article that convinced me to give Focusmate a try.
• Civic Minded 5, my favorite concert promoters, hosted the trio of Nels Cline/Larry Ochs/Gerald Cleaver a couple of weeks back. A mind-blowing show. There were two sets — the second half of set one was explosive and set two was at times drone-y and Krautrock-y. So good. Again, I've never been disappointed by a Civic Minded 5 show and am grateful they are here in Orlando. Your city should be jealous.