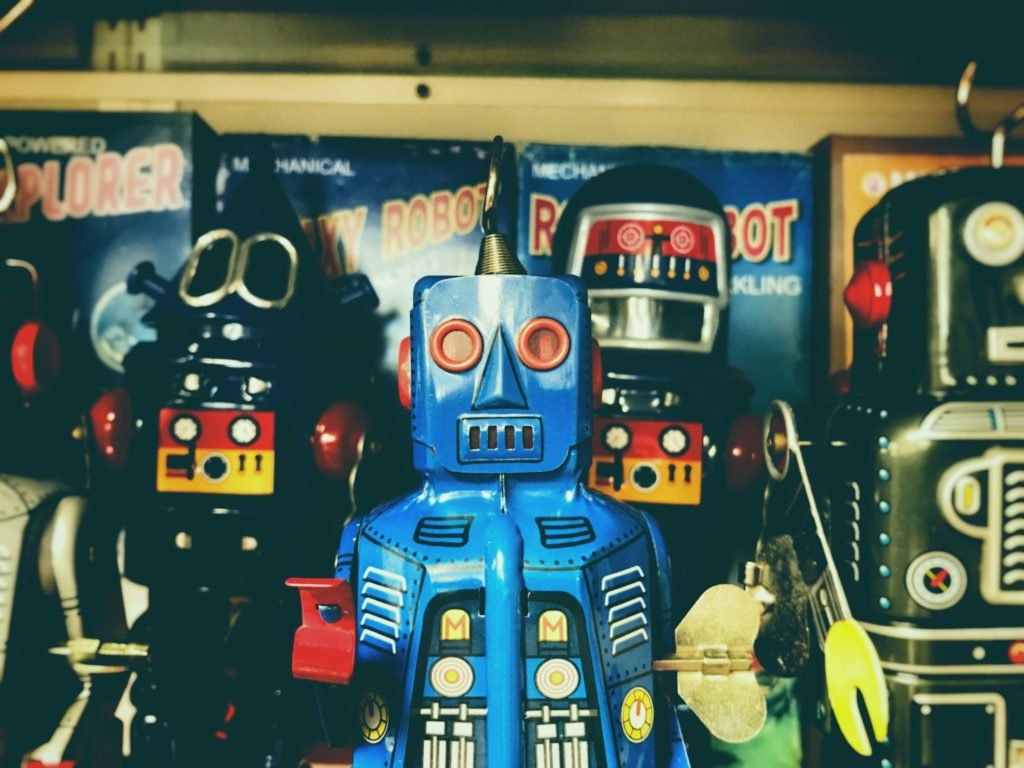 Advances in artificial intelligence, and its applications in our working worlds, understandably create tension and fear. There is the feeling that no job is safe and, for songwriters and musicians, the development of A.I. composed songs is a substantial threat. Though these concerns aren't entirely unfounded, I think we can find a way to evade the robots.
Scott Belsky, Adobe's chief product officer and co-creator of Behance, writes in Fast Company:
Creativity is antithetical to the way artificial intelligence works. We develop machine learning by feeding in data about the way people react in certain situations. The point of algorithms is to predict what most people will do and execute that expected action. But what makes something creative is the unexpected. […]

For workers who are threatened by displacement, developing the ability to express ideas in a creative way can help them evolve from a threatened job title to one with more security.
All of my artist clients are eager to break into film and television music. Their first impulse is to create music according to spec — that is, determine a set of rules for music that fits a particular context and write to that. For example, music for a happy product advertisement should contain ukulele and glockenspiel, have a bouncy beat, feature lyrics with phrases like "let's get together and smile."
If your goal is fulfilling a spec requirement — whether it's your own imagined rules or someone else's — then you'll be outdone. You'll have to be faster and cheaper than the others who are also delivering to spec. And, in the future, this includes A.I. The answer is to go beyond spec, to provide something more than the rules require. Something personal and unexpected.
"Then how do I create music for movies and TV shows?" It's as simple as making the best music you're capable of and creating it in a way that represents you. This music needs to be distinctive to stand out. It should be from the heart. And it could only have been made by you.
Yes, many projects demand specifications. Ukuleles and glockenspiels are all over online product ads. But soon low-priced music libraries will be filled with A.I. created versions of these songs. No one does spec better than a computer, and that signals a race to the bottom. You don't want to be a part of that race.
Project managers looking for generic music at the lowest price-point are familiar in our industry. But there are also music supervisors looking for music that's cool and distinctive, as that will make their projects cool and distinctive. They pay handsomely for that piece of 'cool.'
The dominance of A.I. in the traditional 'library music' field will make the difference starker. The rewards will come to those with a story to tell, with music that's identifiable and capable of connection. Don't overthink it. Focus your craft on finding a unique voice and a sound that will continue to inspire you. That will lead to your best work — work that others will seek and appreciate. But following the market's presumed expectations pits you against the robots. I've seen that movie — it's a futile battle.
Nick Cave may have put it best on The Red Hand Files, his brilliant new Q&A blog:
What we are actually listening to is human limitation and the audacity to transcend it. Artificial Intelligence, for all its unlimited potential, simply doesn't have this capacity. How could it? And this is the essence of transcendence. If we have limitless potential then what is there to transcend? And therefore what is the purpose of the imagination at all. Music has the ability to touch the celestial sphere with the tips of its fingers and the awe and wonder we feel is in the desperate temerity of the reach, not just the outcome. Where is the transcendent splendour in unlimited potential? So to answer your question, Peter, AI would have the capacity to write a good song, but not a great one. It lacks the nerve.
🔗 → How To Thwart the Robots: Unabashed Creativity
🔗 → Considering human imagination the last piece of wilderness, do you think AI will ever be able to write a good song?