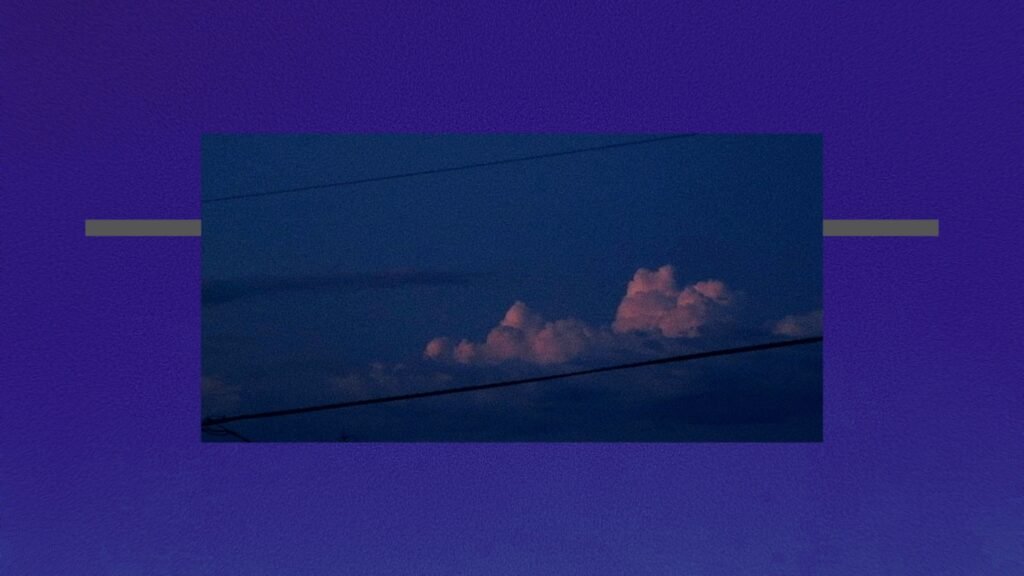 Blue Sun Daydream's opening track, "Night at Sotokanda," instantly evokes a scene. A playful melody chimes in layers of background noise before getting washed in reverb tails and floating tones. It seems we're lost in the Sotokanda district of Tokyo. The sounds continue, echoing grinds and bells, the occasional voice. I'm imagining a railway depot — Akihabara Station, perhaps? — and by the end, we've walked on and into the gentle songs of birds. The bells have become meditation bells. These eight minutes are quite the journey.
Portland-based experimental producer Elijah Knutsen has crafted five expressions of Japan on Blue Sun Daydream, released through the new imprint Memory Color. Knutsen pays homage and updates the micro-genre of Kankyō Ongaku, a style of ambient recently popularized by Light In The Attic on the compilation Kankyō Ongaku: Japanese Ambient, Environmental & New Age Music 1980​-​1990. The music is known for calming atmospheres, sparse but memorable melodies, and environmental sounds. It's music for head-traveling, a concept I'm eager to embrace in lockdown times.
I'm fascinated by this album and the origins of Kankyō Ongaku, so I requested a Q&A with Elijah Knutsen. His generous responses detail his intentions with this project, the history of this musical aesthetic, why a compact disc release of Blue Sun Daydream is essential, and so much more. And Knutsen opens up many rabbit holes to explore. His recommendations alone are worth several deep dives. (I slightly edited this interview for clarity and concision.)
8Sided: What draws you to Japanese ambient music? What makes it different from other electronic ambient music of different eras?
Elijah Knutsen: The unique sound palette that stems from field recordings and environmental sound is unlike many things I've heard before. A lot of Japanese ambient albums are awash with sounds of flowing water, birds singing, rain, and thunder. It takes the music into another dimension of immersion, bringing you to a place you can feel and experience. It adds depth to the idea of music and sound as an art form.
Second, the unique presentation of these albums is interesting to me. Two of the most well known Japanese artists, Takashi Kokubo and Hiroshi Yoshimura, made their groundbreaking records in collaboration with skincare and air conditioning companies, included free with orders and accompanying sales installations. The idea of creating an entire album based around an inanimate object is intriguing and shows how creative and talented these artists were.
Something I find notable about this genre (and ambient music as a whole) is how it completely shifts your idea of what music could be. Rather than focusing on a melody or chord progression, this music encourages a different way of listening. Things as simple as distant train horns, wind chimes, or muffled conversations are now music. You can go outside and experience that music whenever you want to.
8S: What is 'Kankyō Ongaku'? How would you explain it (and its history) to someone new to the genre?
EK: Kankyō Ongaku started in Japan in the 1980s as an offshoot of more contemporary ambient music and became a distinctive form of art. It focuses on 'background noises,' including the natural sound of life, with bits of melody blended between the long stretches of environmental sounds. Synthesizers are typical yet used carefully. The patches and sounds used are soft and simple, much like the compositions. The melodies are simple yet evolving — and sometimes not even there.
8S: The Light In The Attic compilation only covers the years 1980-1990. But how did Kankyō Ongaku evolve into the '90s and to the present?
EK: I feel that the art of Kankyō Ongaku was significantly overlooked, and only now is it becoming apparent how special it is, especially to western audiences. The artists of the '80s continued making their music, and many went on to work in the film and video game industry (Joe Hisaishi – Studio Ghibli). However, the specific type of Kankyō Ongaku explored by Light In The Attic is mostly from '80s artists. But Hiroshi Yoshimura's final album before his passing in 2003, Four Post Cards, sounds directly taken from one of his earlier works.
The sound of Japanese ambient in the 1990s was defined by the artist Tetsu Inoue. Tetsu worked with Pete Namlook and his pioneering FAX label, releasing groundbreaking albums like World Receiver and Ambiant Otaku. These albums defined the genre differently. Instead of programmed synth arpeggios and babbling creeks, Tetsu's music clouds the listener with dense textures of sound set upon ever-changing noise sheets. Tetsu, unfortunately, dropped off the radar in 2007 and hasn't been heard from since.
8S: Are there any notable artists missing from that compilation?
EK: Artists like Hiroshi Yoshimura and Takashi Kokubo are probably the most well known in this genre. Yet, there are other talented artists not included in the compilation. Right now, my favorites are Yutaka Hirose, Tetsu Inoue, Kensuke Mitome, Takao Naoi, and Kazuo Uehara.
8S: Who are some current artists carrying on the Kankyō Ongaku tradition that you'd recommend?
EK: There may not be another artist exactly like Hiroshi, but there are tons who can fit the idea of Kankyō Ongaku. One of the more experimental artists I'm listening to is Tamako Katsufuji, a sound artist from Osaka, Japan. Her albums are incredibly eclectic pieces of sound art, using field recordings, cat sounds, and singing bowls, all arranged in a strangely calming fashion. Although Tamako's music is different than Four Post Cards or Tetsu Inoue, her work is as 'Kankyō Ongaku' as the giants of the '80s. The best part about this genre is how encompassing it can be.
The main reason I started Memory Color was to explore the sound of Kankyō Ongaku and experiment with it. I'm also hoping to find others doing the same thing. There are many amazing artists out there who are entirely unnoticed.
8S: Why is it important to you that your releases are on compact disc or physical formats?
EK: It's important because, when creating an album, everything from the song titles to the cover design should be meticulously crafted. These things are as equally important as the music. Why should the album have to be stripped down to its bare parts for a streaming website? Many people overlook how special it is to hold something in one's hands, especially after engaging services like Spotify. Like with a book, the cover and the packaging is as essential to the experience as the content inside.
8S: Do you think there's a difference in how fans see physical formats now — CDs, vinyl, cassettes — or are they mostly 'totems' to represent affinity to the music? That said, should people listen to music on physical formats? Why or why not?
EK: I do believe that many people buy physical releases for the sentimental value. But there are still arguments that formats such as tape or vinyl are the optimal way of listening. I do believe that we can grow tired of the stale sound presented by streaming platforms. One of my favorite bands, Mercury Rev, recorded their groundbreaking album Deserters Songs on physical tape. The frontman claims that the tape captured the music's emotions in a way digital formats can not.
Going back to what I said earlier, the packaging and artwork are crucial to the album as the music itself. I've purchased many releases on CD after listening to them purely on digital, and the artwork and design not shown on Spotify add another dimension to the overall experience.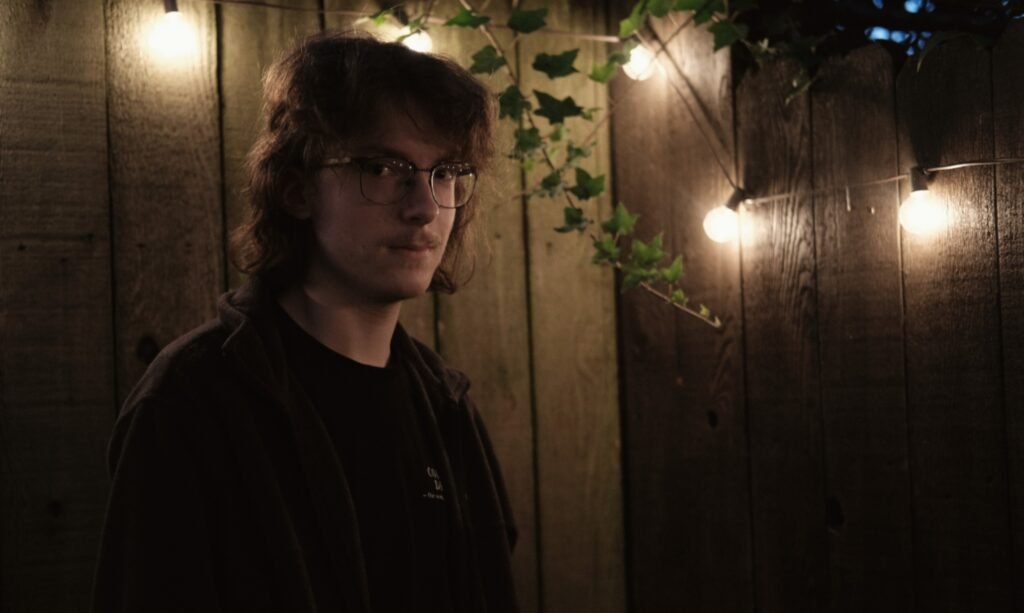 8S: You, and the label, are out of Portland. But the label's website has a .jp address, and song titles have Japanese translations. Are you specifically targeting Japanese listeners?
EK: One of the main reasons I chose to market my label to Japan is its still-thriving physical market. A big goal is to get our releases into actual music stores, so why not try with one of the only places still buying physical releases? I also felt it was important to make the music we're releasing accessible to Japan, especially if we're taking such a large amount of inspiration from that country's sound.
8S: The press release notes that "the album explores the idea of yearning for another time and place, even if one has never been there." Is Japan one of those places?
EK: Definitely. I often have vivid dreams about living in another country or place, and then wake up wondering what I'm missing. This feeling also ties into the music on the album. I base many of my albums on places and the feelings and memories they bring about. I like to capture the entire essence of a moment and relive it through the music.
For Blue Sun Daydream, I went on Google Earth's street view and wandered around in small Japanese towns, noting the names of areas I thought were evocative. I wondered what it would be like to live there. The song titles you see on the album are all real places, more or less.
8S: The album features evocative sound design. It really is transportive. I assume this is the contribution of Kato Eiji, mentioned in the press release. Can you tell me about this collaboration and how his recordings and input influenced the album?
EK: Yes, I met Kato through an ambient music forum. He posted a link to his Freesound page — that's a site where I get many field recordings and samples for music. Most of his recordings were done in Southern Tokyo, ranging from train station ambiance to street sounds and rainfall. I used some of his recordings on Blue Sun Daydream, as well as sounds I recorded. His recordings added the extra level of atmosphere that I was looking for. They set the scene for the album.
8S: What is a 'memory color'? What does that mean to you, and how does the concept inspire the label's output?
EK: A "memory color" is, scientifically, a color typically associated with an object through memory, such as a banana being yellow or a leaf being green. It's the relationship colors have with our memories. Some colors will remind you of the specific things you've seen and experienced throughout your life.
However, the label name 'Memory Color' is inspired by the feeling of wanting to record moments and emotions somehow and revisit them whenever you want to. It's a reference to that feeling related to the nostalgia that many people feel when listening to music.
It's also very much inspired by the sensation of dreaming, and how that plays into memory. In a dream, you can witness an incredibly vivid place or moment. Yet as soon as you wake up, it quickly dissipates, and you can only remember a particular color, sound, or emotion. I believe that the music of Kankyō Ongaku is as close as one can get to capturing those dreams.
——————
Blue Sun Daydream is available now from Bandcamp and a limited edition handcrafted compact disc from the Memory Color website.