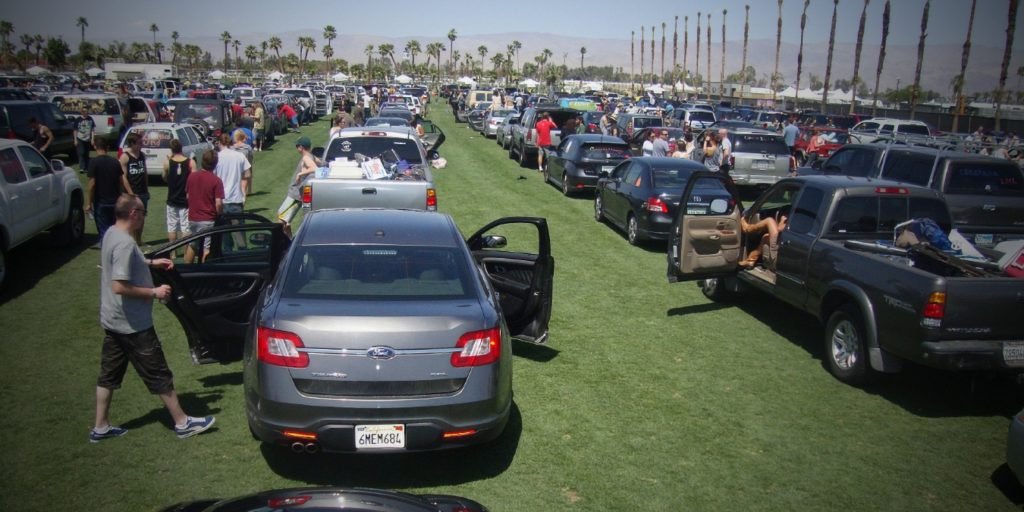 I expect a lot of honking. Ray, a longtime friend, alerted me to The Road Rave, an event billed as "North America's first-ever drive-in festival of the COVID era." The festival is led by EDM sensation and Ultra Music Festival veteran Carnage, performing alongside at least four other acts. A maximum of 500 cars will line up in formation, facing the stage, each with two to six inhabitants encouraged to stay seated during the event. "Roaming golf carts" will take concession orders.
The Road Rave takes place Saturday, June 20 (postponed from the original date of June 6), about six miles from my house. It's sold out. No, I'm not going, but thanks for the invite. That said, I'm close enough that I'm sure the not-too-distant sound of 500 cars honking will echo over Lake Holden and into my eardrums throughout the evening. Every bass drop — honk honk honk. Every on-stage glitter explosion —- honk honk honk. Every DJ raising his hands in the air — honk honk honk. There will be a lot of honking.
We're now in the phase of The Strange Times where watching a concert from the seat of a car seems attractive. I get it — we're making our way through this any way we can. And even a glimmer of normality that's not normal at all can provide reassurance. But, man — all those cars.
In the last several months, there was a push to explore the idea of environmentally-conscious, carbon-neutral touring. Massive Attack and Coldplay were high-profile advocates of the concept. So it's ironic concert-goers are now encouraged to lean into the fossil-fuels, idling their automobiles as a festival broadcasts over an FM signal, and a guy in a golf cart takes another nacho order.
It's not only The Road Rave. The concert promoting Borg, known as Live Nation, is planning nationwide 'drive-in concert' tours this summer, taking place in the various parking lots of its 40 amphitheaters. And for promoters who don't own stadiums, drive-in theaters are a no-brainer for events. However, most existing drive-ins are far outside of bigger cities, and the owners would rather show movies. Says one proprietor, "We don't mind doing one-off special events, but most of us feel we're here to show movies." Less hassle, less honking.
In an article about the absence of live music, the drive-in theater aspect inspired Rolling Stone contributing editor Rob Sheffield to remember a scene from '70s movie dystopia:
There's a scene I keep re-watching from the Seventies sci-fi zombie trash classic, The Omega Man. Charlton Heston is the last human left alive in LA after the plague. He drives out to the empty theater that's still showing the "Woodstock" documentary. He sits alone in the dark, a ritual he's done many times before, watching the hippie tribes onscreen boogie to Country Joe and the Fish. "This is really beautiful, man," a dazed flower child tells the camera. Heston recites every word along with him. "The fact is if we can't all live together and be happy, if you have to be afraid to walk out in the street, if you have to be afraid to smile at somebody, right—what kind of a way is that to go through this life?"

Charlton Heston gives a sardonic smirk. "Yup—they sure don't make pictures like that anymore."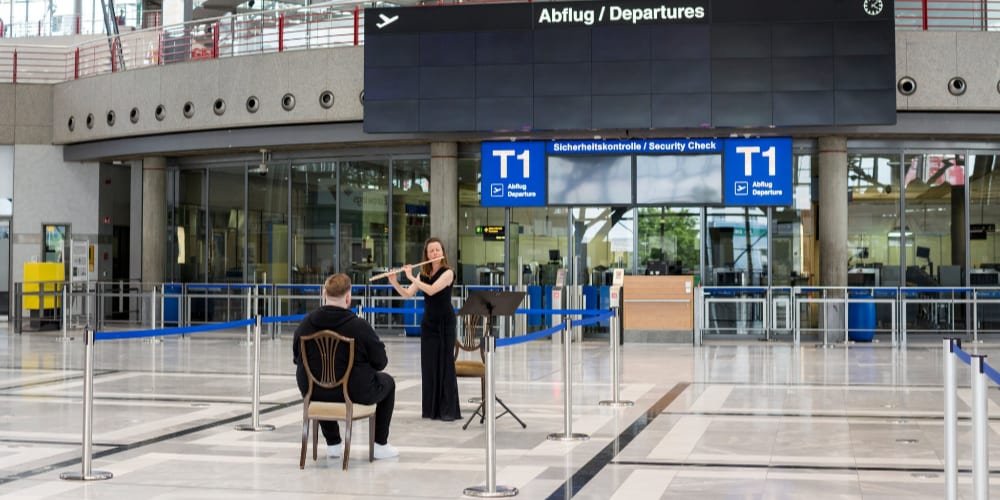 On the other hand, there are approaches to social distanced gatherings that border on performance art. For example, the restaurant outfitted with mannequins and the TV show with an audience of balloon people. A precursor to social distanced performance art might be 2018's Mile-Long Opera, where listeners walked along NYC's High Line. Singers were encountered along the path, each singing in tandem, and, as an 'audience member,' you are encouraged to keep moving. It's a compelling idea, but nowadays, even a performance in motion has its COVID-19 dangers. Jane Moss of The Lincoln Center, considering the option, worries about transfixed groups stopping to watch in a virus-spreading bottleneck: "The more ingenious and intriguing you get, the more people want to come together to see what you've done."
Performance art directly inspired one daring concert experience. Marina Abramovic's exhibition (and terrific documentary film) The Artist Is Present featured the artist sitting across from a stranger in silence. The simple act of this face-to-face meeting — at about a socially distanced six feet — caused intense feelings of intimacy in many participants. Some of the seated museum-goers broke into tears during their sittings. From this idea came performances at the dormant airport in Stuttgart, Germany. A musician from the local orchestra gave a series of ten-minute 'concerts' to solitary audience members. They faced each other at a short length, with no conversation and no applause. In a NY Times piece covering the event, listeners spoke about the same sort of intimacy that Abramovic's temporary partners felt.
This intimacy is unexpected, but innovative answers to the live-music-under-COVID problem will produce unexpected results. That's the subtext of all performance art — experiment with people's expectations and things will happen. And the further away we get from a traditional live performance, the less it looks and feels like a concert. Understandably, that worries a lot of people.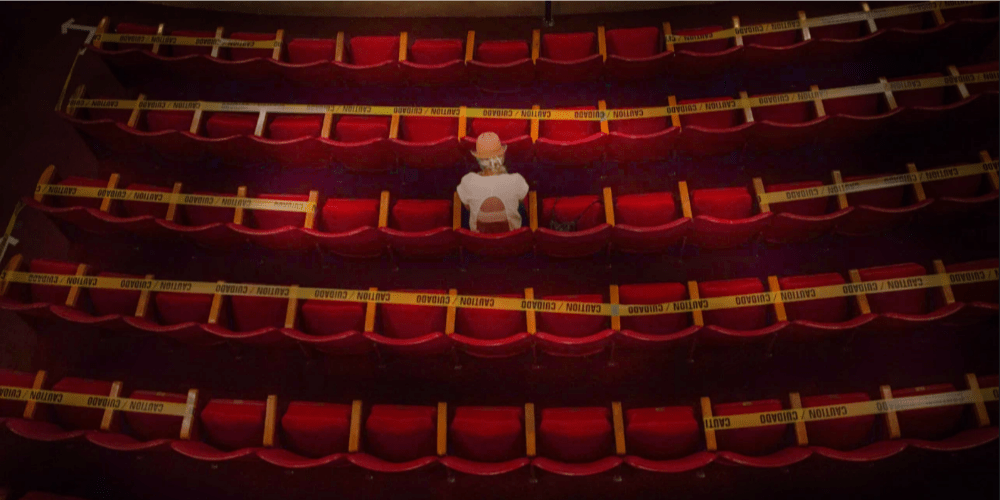 Others have attempted to zero-in on the center of the Venn diagram linking live music and COVID-19 safety. There was this small event in Münster that featured famed DJ Gerd Jansen, social distanced dancing (in theory), a 100-person limit, and €70 tickets to break even. And in Arkansas, blues-rock singer Travis McCready played to a sold-out — but still smattering — crowd who were temperature-checked before entering:
On the surface, the concert had all the makings of a typical rock & roll show. Stage lights set the mood. The audience clapped along, with some even dancing in their "fan pod" seats (tickets were sold in blocks to keep groups six feet apart). But when the bank of floodlights at the front of the stage illuminated a nearly empty 1,100-seat theater during Travis McCready's set, the reality of the situation was clear. The first socially distanced concert in the US felt more like a dress rehearsal than a typical concert experience.
It's something, but is it helping? And by that, I mean, helping us cope or return to something like our ordinary lives? Since reading the Vulture piece I linked to above I think a lot about this paragraph:
The first fallback options—play to an empty house (as a small sub-ensemble of the Berlin Philharmonic has done) or distribute a few hundred listeners around a hall that could seat 2,000—would only emphasize the melancholy weirdness. That kind of event can have an impact as a ritual of mourning, a dramatization of all we've lost. But it's no way to lose ourselves in some alternate, virus-free world of the imagination.
The music is only one reason we go to concerts, festivals, nightclubs, or raves. We also go for the community, to connect with (as Seth Godin says), "People like us who do things like this." We've all forged at least one friendship with someone we saw at 'all the same shows.' Many of us even met our future life partners at a club or concert. These solutions I pointed out — attending in cars, listening alone to a flute player, or boogying at a distance in a near-empty club — only solve the 'music' part of the equation. It's true that we miss and crave the rush of volume, performance, and the live music experience. But until we regain the electricity of community that accompanies it, we've, so far, only captured the facsimile.
This post was adapted from Ringo Dreams of Lawn Care, a weekly newsletter loosely about music-making, music-listening, and how technology changes the culture around those things. Click here to check out the latest issue and subscribe.