At the beginning of the week, I ran across The Perfumed Garden, a blog collecting recordings and playlists from episodes of John Peel's celebrated long-running radio show. The tracklists are fascinating on their own. They serve as trapped-in-amber snapshots of what was musically 'cool' that particular week of that specific year. Also, the shows from the late '70s and early '80s inspired listeners who later formed more than a few beloved UK bands. John Peel was who they were listening to. This influence remains enormous, and it's fun to examine these roots.
Where will we look in thirty years to find the musical zeitgeist of today? Is there anyone like John Peel, collecting and noting songs for enthusiasts to study thirty years from now? I imagine there are tastemakers across genres with a similar influence — not only in underground rock and dance, but also in hip hop, in Indian music, in jazz, and so on. But I fear they're making streaming playlists — ephemeral lists of what's moving the present culture, but inaccessible to those studying music's past.
The day after I was thinking about all of this, the news came from everywhere that Andrew Weatherall died. I'm assuming most of my readers know of Weatherall and, like me, are saddened by this news. If you'd like a refresher of his remarkable career, read some of these moving memorials. (Each word at the end of that sentence is a link.)
Weatherall was an X's X, where X could be several things: a producer's producer, a DJ's DJ, a remixer's remixer, and so on. If one of those Xs was your trade, then chances are you looked up to Andrew Weatherall as one of the best in the discipline of X.
And I did think about Weatherall, the tastemaker's tastemaker, while I was falling deeper in the John Peel rabbit hole. Weatherall was the first name that came to mind as Peel's worthy successor. It's not an original thought — upon Peel's passing, there was a campaign to give Weatherall the historic Radio 1 slot. But as Weatherall told Dazed & Confused (recounted by Greg Wilson in his lovely remembrance): "The curmudgeon says I'd rather be the one Andrew Weatherall than the second John Peel."
On Twitter, Joe Muggs requested that we don't solely remember Weatherall as "the Screamadelica guy." He unarguably was so much more — for example, the first track on this posthumous single, released yesterday, is stunning — but I'd like to focus on a remix Weatherall did for that Primal Scream album.
I first heard the 'A Dub Symphony In Two Parts' version of "Higher Than The Sun" when it came out in 1991. Primal Scream were not on my radar, so it probably came to me as a radio promo (I was a college radio music director and listened to everything). At the time I was dabbling in electronic music production with a few basic pieces of gear. I was mostly (badly) emulating beats and loops found on the instrumental mixes of hip hop 12″ s from the likes of Public Enemy, Black Sheep, Erik B. and Rakim …
In my world, this 'Dub Symphony' changed everything. It presented the remix as nearly untethered to the original, artistic branches sprouting from the seed of someone else's creation. There was nothing else like it.
I was already obsessed with The Third Mind, a book and concept developed by Brion Gysin and William Burroughs that encouraged combining random, unconnected elements to summon undiscovered inspiration. I interpreted Weatherall's style of remixing as a producer's version of The Third Mind. Weatherall's 'Dub Symphony' helped me — and many others — approach the act of remixing as almost mystical, a long-distance collaboration.
I don't have a whole lot of original music to show for my own long and storied music career. But I've got a ton of remixes under my belt. I fell in love with remixing — fell in love hard — and most of the time, that's all I did in my studio. For better or for worse, I can thank Andrew Weatherall for that.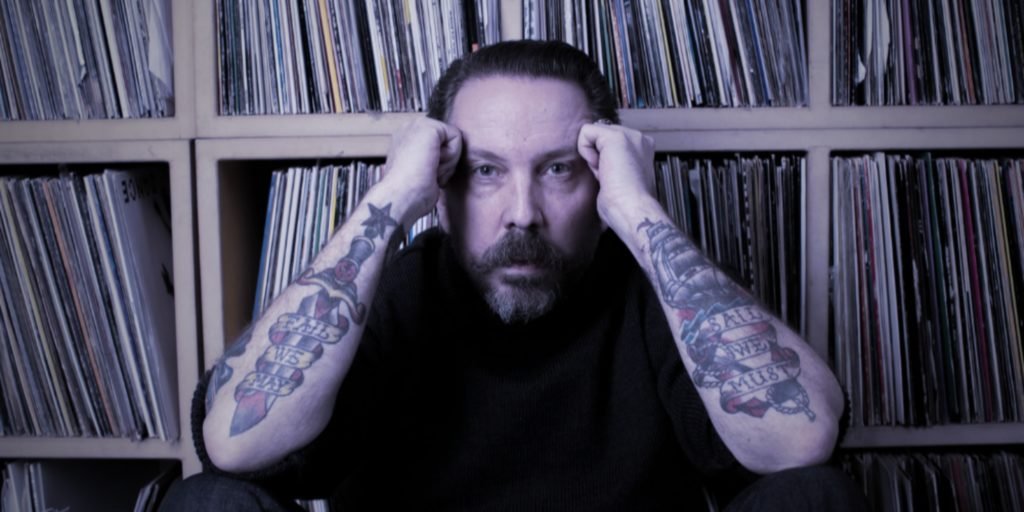 ---
A side note: when I'm consulting music-makers, I always mention 'the punk rock dream.' The phrase refers to how, as a punk rock kid, the prospect of self-releasing, worldwide distribution, and instant networking was like a dream to me. And now we're living it. My colleagues are sick of hearing me spout this phrase which I thought I might have coined. But then I ran across this Weatherall quote in The Guardian as I read a bunch of his older interviews this week: "Here we are at the apex of the punk-rock dream, the democratisation of art, anyone can do it, and what a double-edged sword that's turned out to be, has it not?" Did I somehow crib that from The Guv'nor, too? I suppose I shouldn't be surprised.
---
Here's a great selection of Andrew Weatherall's productions combined with wise words and tales from the man himself. This mix serves as an excellent primer if you'd like one.
Here's an archive of Andrew Weatherall DJ mixes. The number of sessions approaches 200.
Here's an archive of his NTS radio show Music's Not For Everyone. These programs verify Weatherall's ear for amazing, up-and-coming artists in a variety of genres, and why he gets mentioned alongside John Peel as an influential tastemaker. His last show aired on January 30.
And, if you use Apple Music, here's a playlist I compiled via various sources. It features Andrew Weatherall productions, remixes, and collaborations alongside tracks he played on his NTS radio show.
I'm not a fan of tattoos, but I like the ones on Andrew's forearms. They read: Fail We May, Sail We Must.
This post was adapted from Ringo Dreams of Lawn Care, a weekly newsletter loosely about music-making, music-listening, and how technology changes the culture around those things. Click here to check out the latest issue and subscribe.