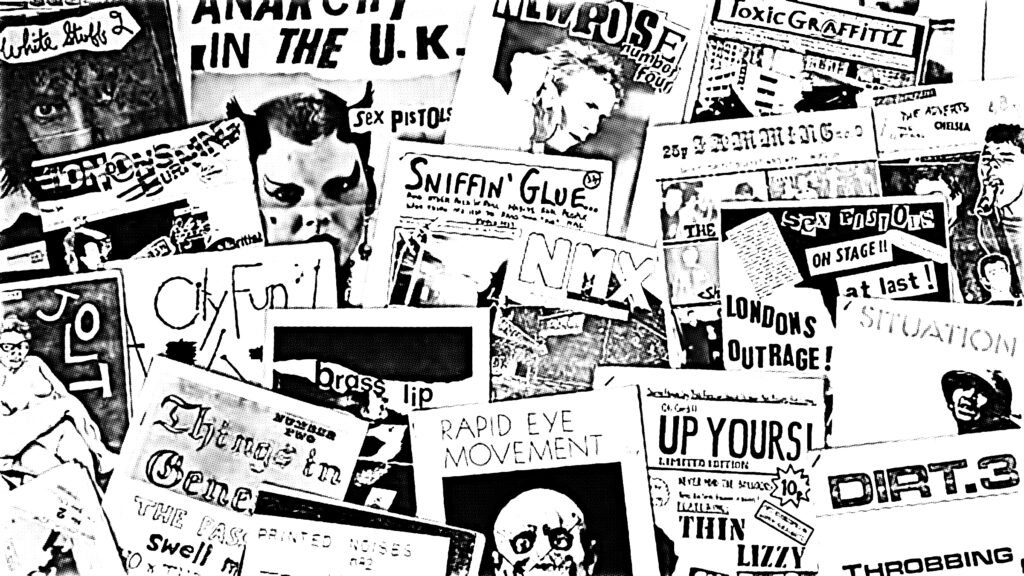 I'm watching this Minutemen concert video from 1985 ("And when reality appears digital," Mike Watt soothsays at 18:57) and thinking about the punk rock dream. American independent music was at its height, disadvantaged, compared to its British counterpart, by the sheer size of the country. For the first time, bands like these were finding nationwide renown without a major label attached. (A quick pause to recommend Michael Azerrad's essential book Our Band Could Be Your Life if you'd like to learn more about these scenes.) But the dream — yes, the punk rock dream — was autonomy. Self-releasing, self-distributing, self-promoting, self-administrating, self-booking. Some, like Ian MacKaye's still inspirational Dischord outfit, came closer than anyone had before.
Fast forward a few years after that Minutemen concert. I was nineteen years old and wanted more than anything to start a record label. But those were ancient times, and I had no idea how to manufacture vinyl or find a distributor and doubted it was possible from my lonely North Louisiana dorm room anyway. So I dreamed — came up with names, imagined the types of bands I'd sign, scribbled fake logos, studied the discographies (and personalities) of labels like SST, Alternative Tentacles, and Factory.
What a time. Here I am (guitar) at nineteen, playing something resembling punk rock with my friends (photo by David):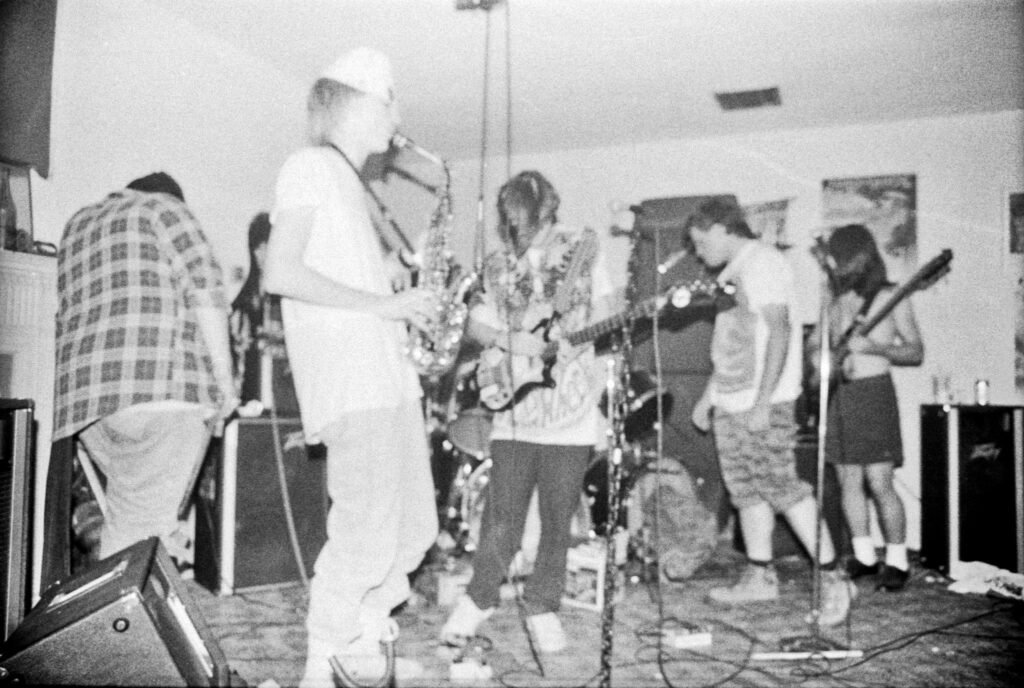 "Home Taping Is Killing Music" was a strange '80s PR campaign by the British Phonographic Industry, a trade organization representing major labels and distributors. We read that slogan to mean "the music industry" as taping our friends' records made more music, not less. The punks agreed. Alternative Tentacles released Dead Kennedys' In God We Trust Inc. on a one-sided cassette — the b-side was blank. The cassette displayed the familiar tape-and-crossbones icon (now appropriated by The Pirate Bay) and the phrase, "Home taping is killing record industry profits!" Below that: "We left this side blank so you can help."
The major labels were the target of our ire, but, in reality, our problem was with the corporate gatekeepers. Sure, we had our gatekeepers — the fanzines, the college radio DJs, the cool punk rock clubs. Not all gatekeepers are bad, but those corporate gatekeepers insisted on shoving their agenda-culture down our throats.
Because of this attitude, some celebrated when Napster supposedly (but not really) brought down the music industry. That era offered a glimpse of the power of self-distribution, aided by the internet revolution. As bandwidth got faster and tools more sophisticated and egalitarian, predictions about 'the end of the major label' were common (guilty as charged). "No more gatekeepers!" was the rallying cry — that emerging teenage bands would soon have the same chances at an audience as an established superstar.
The result: not only are the corporate labels flourishing, but new gatekeepers have covertly replaced the old ones. Sure, the power to self-everything is here, but most choose to sieve their independence through an algorithmic filter. We're gaming the gatekeepers just like old times, but now it's about massaging the algorithm to get us on the right playlists, to amplify strategically placed hashtags, and to get the targets just right in that boosted Facebook post.
There's so much frustration with this newfound reliance on social media and low-paying streaming services. But do things have to be this way?
Back in my dorm room, I was frustrated that I couldn't figure out how to do what all the punk-inspired DIY'ers wanted: to navigate this music thing without any interference (or interaction) from 'the man.' That was the punk rock dream. And now we can have it but only if we really want it. The dream's not easy, and algorithms, and the promise of shortcuts, are seductive.
If I've personally advised you on label or recording artist stuff, you've heard me mention 'the punk rock dream.' I talk about it a lot. I've been thinking about the concept since that dorm room. So, when I decided I needed a new tag-line for my blog, I decided on "A zine about sound, culture, and the punk rock dream." Because, really, that's what the blog and newsletter are all about. (The 'zine' part is a nod to how I got started with all of this.)
Revisiting my relationship with 'the punk rock dream' inspired me to start the process of moving my email newsletter off Substack. I've thought about this for several months and recent debates have strengthened a need for platform independence. The importance of self-publishing is probably best examined by talking through the changing definition of independent music.
The qualifications for 'independent music' once seemed cut-and-dry, apparent in Michael Azerrad's book that I linked to above. Now things are fuzzier. How independent is the punkest of punk labels if they primarily promote through Zuckerberg's platform, via a corporation so huge it would have given Jello Biafra an aneurysm back in the day? A band might self-release, but are they independent if Spotify and YouTube are the focus of their outreach? One could even go as far as to charge that a reliance on Apple products to make music is a dependence on the most giant of multi-national corporations.
We can go all over the place with this until it's just nitpicking and cutting hairs. But my definition of 'independent,' which I wrote about here, is summed up by a simple question: do you truly own the work you're passionate about?
That ownership includes all the decisions made about how an artist presents her work: how it's distributed, how direct the access is to the audience, and the alignments that color the public perception of the work. The primary platform hosting this art — your preferred way for people to check out what you've made — plays a large part in determining ownership. The person who writes paragraphs of prose as a Facebook post doesn't own that — Facebook can take it down at any time. It's the same for a photographer using Instagram as her only portfolio. Or a video-maker hosting his achievements solely on YouTube. I don't even think Bandcamp is immune, despite its reputation as a bastion of music independence. It's all the same if you're relying on it. How screwed would you be if it went away? Or if a corporation that doesn't share your values acquired it?
I'm not saying you shouldn't use these platforms. But position your art and the work you're passionate about under the assumption that these platforms and — crucially — their policies are impermanent. These should be deployed as mere tools, not adopted as foundations. Let your work live somewhere you own, and make that place the primary destination for your audience. Everything else is a funnel. 
Sounds like the punk rock dream, right?
Self-publishing the newsletter is the way to go. I've done the research and am looking to apply something close to what Jared Newman is doing (without charging my readers, of course). There's also some great advice from Ernie Smith of Tedium on self-publishing an email newsletter.
At the very beginning of Ringo Dreams of Lawn Care, I mentioned that the newsletter is an experiment until it isn't. Changes are just another visit to the lab, mixing chemicals and seeing what happens. I'm constantly testing what independence means in the digital age and how the internet can facilitate — rather than stifle — that punk rock dream. Consider my newsletter and 8sided.blog a continuing report on my findings.