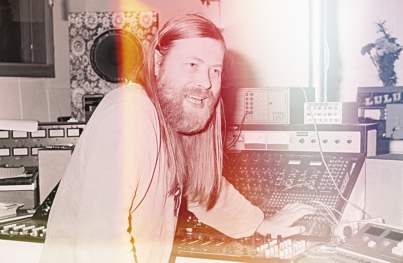 The documentary Conny Plank: The Potential Of Noise was more touching than I expected. The film is a collaboration of director Reto Caduff and Stephan Plank, Conny's son. Stephan drives the documentary as conversations with musicians who worked with Conny Plank help him understand and rediscover his father.
Conny Plank died of cancer at 47 when Stephan was just 13. A lot of Stephan's memories of his father revolve around these odd musicians who stayed and worked at the farmhouse studio. Often the musicians would join the family for dinner (indulgently prepared by Stephan's mother Christa), and they would become Stephan's temporary playmates in between sessions. So, in this documentary, Stephan is meeting people who not only have perspectives on his father but are also part of shadowy childhood memories. The musicians are also taken aback — the last time they saw Stephan he was a child and an oblivious studio mascot.
The highlight of the documentary is Stephan's meeting with the classic rap duo Whodini. Did you remember that Conny Plank produced part of Whodini's first album? I forgot, too, until this film pleasantly reminded me. Whodini was an upstart act in their late teens, suddenly flown to a farmhouse in rural Germany in a bold choice by their label. The duo grew to love the eccentric but brilliant Conny Plank, and this love and respect pour out of their interview segment. Stephan is visibly emotional as he hears another warm story of the universal impact and guiding influence of his father. Even I choked up a little.
There's so much more in this film, including interviews with Michael Rother (Neu! and — early on — Kraftwerk guitarist), Eurythmics' Dave Stewart (who may have been the last to work with Plank), and Holger Czukay (Can). Czukay comes off as kind of a jerk in his honesty about how Conny cared more about his studio than his relationship with his young son. It seems that Stephan has come to terms with this.
Noticeably absent is Brian Eno who stepped into Plank's studio on more than one occasion. A section on the recording of Devo's first album allows Eno most of his screen time, and that's given to Gerald Casale talking about how he didn't like Eno's attempt to add his 'pretty' vocals and synth lines throughout the record.
Conny Plank: The Potential Of Noise is inspiring and a stirring tribute to a person who lived the creative life. But most of all it's the story of a son finding his talented but distant father. With Father's Day approaching, I can't think of a better movie to watch, especially for those of us missing our dads.
Conny Plank: The Potential Of Noise currently streaming on Amazon Prime and available as a 'rental' on other services. And here's a fine interview with Stephan Plank about the documentary. For what it's worth, I'm pretty sure the no-show Stephan refers in that piece is Eno, not Bono.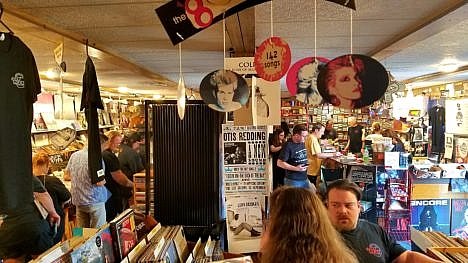 I sure wish we had Record Store Day back when I owned a record store. The closest thing I had to Record Store Day was that time that the Orlando Lollapalooza date got canceled. My store — the only indie-rock-catering record shop in downtown Orlando at the time — was flooded with disappointed festival-goers looking for somewhere else to hang out. That was the biggest day of profit in the store's existence.
Record Store Day is a great idea — in a perfect world, every Saturday would be Record Store Day of course — though many independent labels have serious issues as the event becomes dominated by major labels. Last year Numero Group, for example, blasted the current RSD as an "unwieldy grip-and-bitch fest … lines, fights, flippers, backed up pressing plants, stock shorts, stocking, and pricing at 4 am the morning of, and that inevitable markdown bin filled with all manner of wasted petroleum and bad ideas."
As an independent label owner, I understand these gripes entirely. The now major-label (and major-indie) dominated RSD is mainly a nuisance for the small imprint. I'd instead release a high-profile album a week or two before Record Store Day. That way the shops will (hopefully) have my release in stock already, but I'm not vying for attention with the limited edition Devo boxsets and whatnot.
But as a former record shop owner, I am totally cool with Record Store Day. It was tough to keep the lights on at my store in the early '90s. I can't even imagine how tough it must be now. But I do know that the money earned on Lollapalooza-cancellation day paid our bills for a good month. And it allowed us to take risks on some great new records in the following week's stock order, too.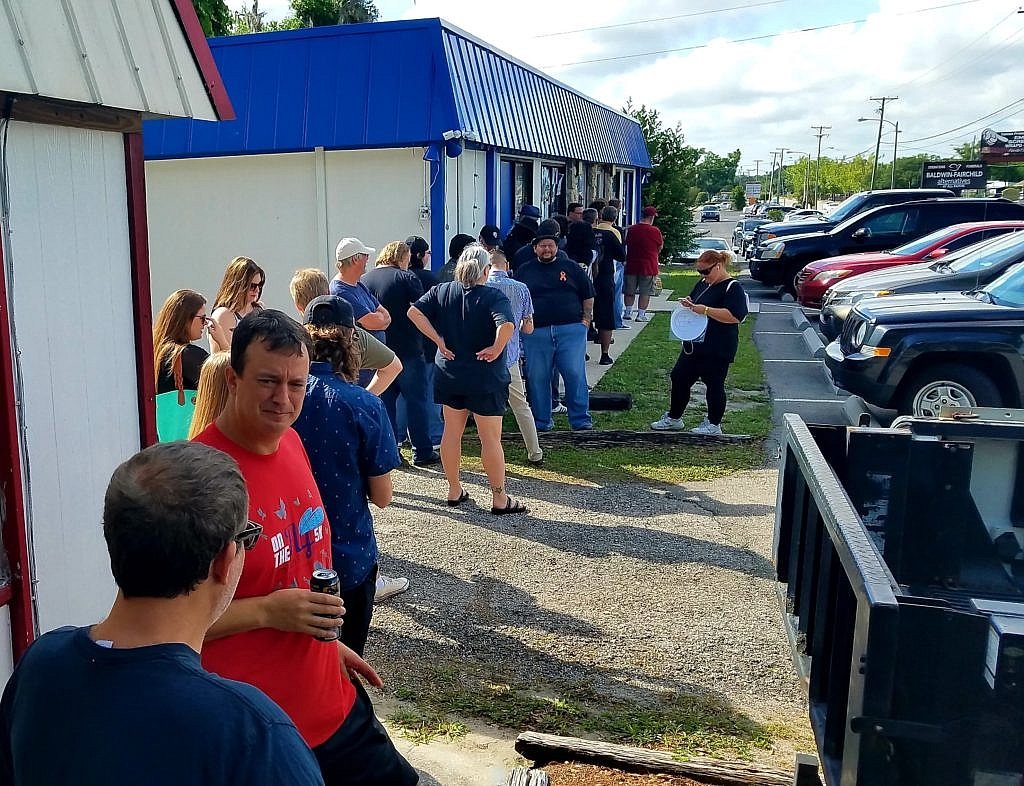 Meanwhile, Leor Galil of the Chicago Reader reminds us:
RSD's founding principle is to support local record stores, but I don't think such support should be confined to shops that stock RSD special releases. Thrift stores can be great places to buy music, even if they devote only a small fraction of their floor space to it. […]

Secondhand shops … rarely sort or catalog their collections in any way, so that it's futile to take any approach other than "see what you can see." Such stores are often the last stop records make before the landfill, and browsing their collections can feel like panning for gold in a sandbox. I don't mind spending 15 minutes at a Goodwill, though, digging through battered Herb Alpert discs and high school marching-band LPs—the longer I look, the slimmer the chance I'll find anything interesting, but even the tiniest chance is worth 15 minutes to me.
Though record stores maintain some aspect of discovery, I think customers are a lot more educated before going in than they once were. I doubt many of the people in line on Record Store Day are thinking, "I wonder what I'll find?" They have their pre-determined purchasing targets. It's more like, "I hope they have a copy of that Devo boxset left!"
Unimpeded access to new music (via streaming and endless opinion and information online) creates a savvy customer who knows what he or she wants, whether today is RSD or not. I do wonder how many people still ask for recommendations from the geeky clerk behind the counter. "I like crazy modern European jazz … what's good?" gets replaced by "can you direct me to the new The Comet Is Coming album?"
On the other hand, it's impossible to go into a thrift store with a record-buying agenda. Though rarely can you ask someone behind the counter for a recommendation, but that's beside the point. Following Galil's train of thought above, thrift stores remain frozen, unaffected by streaming, by the internet, by the ups-and-downs of the 'vinyl revival.' Just as we did twenty years ago, you go in and hope. You often buy something because the cover looks crazy, not because you went in looking for it (you're cheating if you call up Discogs on your phone). You'll take a chance on a record even though it's got a few deep scratches on side two. And then you take that stack home — whoa, it only cost $7 for all of them — and you put on that one record that makes it all worthwhile. You made a .50 gamble, and it's the JAM. That's the spirit of vinyl. Happy Record Store Day!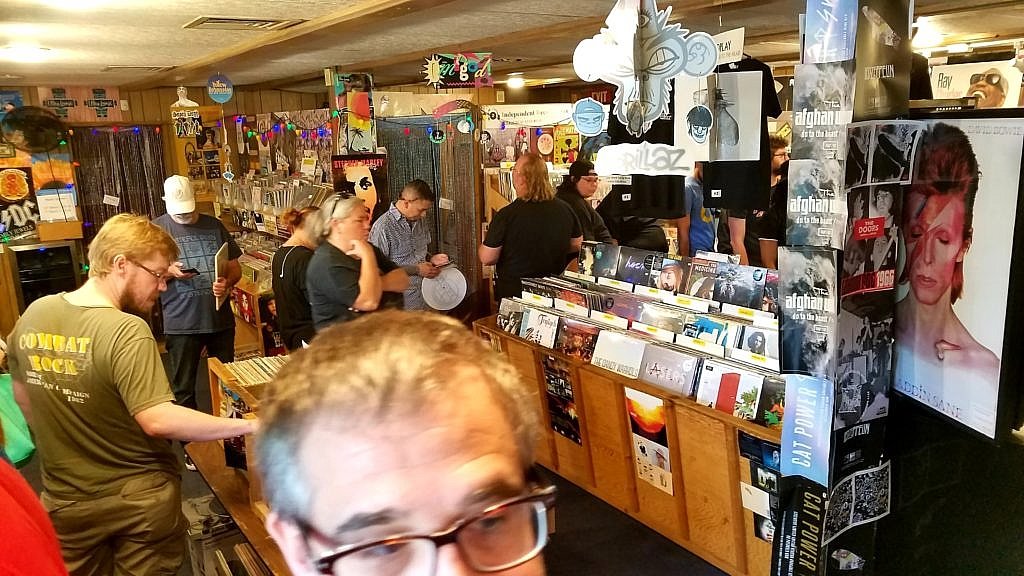 PS – The above photos were taken this morning by Gary Davis at East West Music & More. Gary got the last copy of the Devo boxset!
PSS – My best thrift store find? I once ran across mint copies of the first several original Telex 12″ singles on the floor of a pawn shop, a quarter a pop.