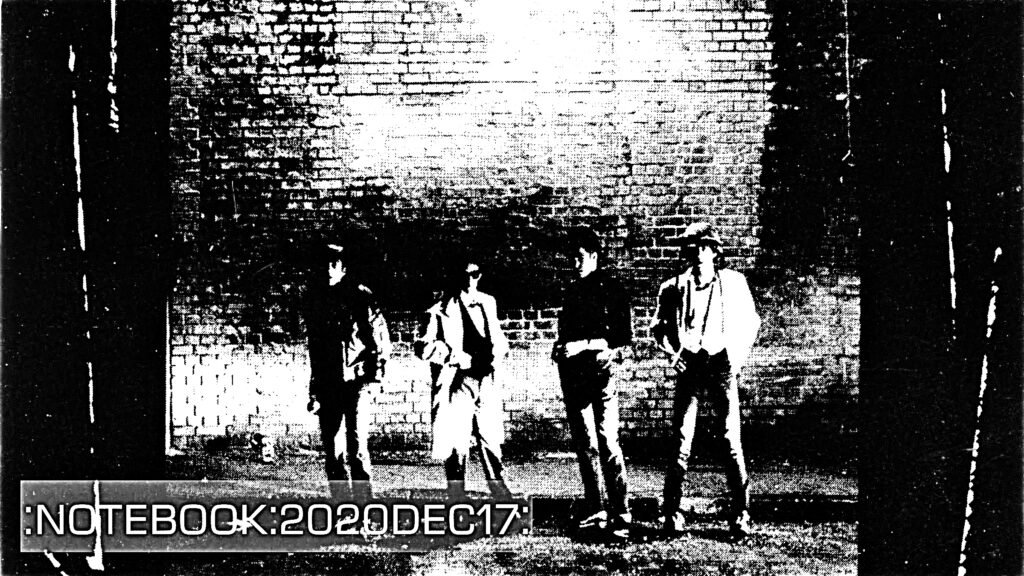 Sandinista! at 40 → The Clash's ambitious triple album Sandinista! was released 40 years ago this month. It was the first vinyl record I ever bought. I remember wandering into the mall record store thinking, "I should get something by this band The Clash I'm hearing about." Looking through the bins, I see that Sandinista! packages three records filled with music for the price of one.1The Clash reportedly agreed to a cut in royalties to keep the price low on this album. So, that's the one I picked over London Calling or the two others. 
As I told Lawrence Peryer at the end of my interview on the Spot Lyte On podcast, Sandinista! probably wasn't the best first exposure to The Clash. The album was difficult to latch on to — there was so much music, and the styles varied wildly from track-to-track. I remember liking "Magnificent Seven" and "Police On My Back," but I didn't get it overall. Maybe I chose the wrong intro album, making The Clash a band I'd merely appreciate through the years. 
Simon Reynolds recently wrote about Sandinista! on his Blissblog, calling it a "fan-perplexing triple – which must be their least-listened record (well, apart from Cut the Crap) but which makes for a surprisingly listenable listen for streaming-era ears." A vintage album best suited for streaming, then? Simon explains, "It's not a record that can be listened to in a single sitting, especially in those days of vinyl — all that getting up and removing another disc from the sleeve, or flipping over the platter."
When we first dip into a catalog, I wonder about the effect of that first record we listen to from a band. It can make the difference between becoming a fan or "meh." Catalog dipping is a lot surer with streaming. You're not really taking a chance anymore. And it's easy to know which albums are the favorites, the most listened to, or the critically lauded ones. Before digital music, we were often guiding our chance-taking by album price. Three albums for the price of one was tempting. Also, there was the cut-out bin. Those $3-and-under records were often our intro albums, but, usually, only a band's least popular records ended up as cut-outs.2Though I did discover Eno via the cut-out bin. It was Before And After Science, I believe.
Of course, I now enjoy Sandinista! quite a bit. And I see "Magnificent Seven" (and much of the album) as an '80s milestone, ahead of its time. Here's a fascinating oral history of that song from Consequence of Sound. And there's a new music video for "Magnificent Seven." The legendary Don Letts edited it from footage from The Clash's time in NYC and their 1981 Bond's residency. So good, so nostalgic. 
——————
Library Music → I'm intrigued by Tracks Music Library, a streaming platform set up by the Chapel Hill Public Library. Tracks is an online music site solely focused on artists from the 'The Triangle' (Chapel Hill, Raleigh, and Durham). Via Indyweek:
[Local artists] are compensated for their submissions and given full ownership of their tracks. Upon visiting the website, you can search curated music from more than 70 musicians and bands; if you have a Chapel Hill library card, you can also download music.
It turns out Tracks uses a streaming engine called MUSICat, allowing libraries to create an "affordably priced" platform for "music streams and optional downloads to library users." Libraries across the country are implementing this (here's a list), with most focusing on local music. I assume payments for streams and downloads are paid to the artists through the grant pools and public funding given to libraries. 
I love the idea of streaming platforms based on local music and regional scenes. It's a welcome antithesis to the temptation to always think globally on the internet. The rights are easy to secure as the platforms are dealing directly with the artists, most unsigned. And I see that Tracks is working with Durham's Merge Records, so prominent local labels can also get involved. This is how you foster a community, which is an essential exercise in fractured times. 
——————
Monta At Odds – A Great Conjunction → Kansas City's Monta At Odds are a spacey band, both in sound and obsessions. Science fiction literature had a heavy influence on their Argentum Dreams album (released in 2018 on my 8D Industries label). And the band's recent single "When Stars Grow Old" is inspired by a vision of a future culture remembering its past on a distant world. So it's no surprise that December 21st's 'great conjunction' of Saturn and Jupiter would inspire the band to summon a new set of cosmic tunes. These five songs are Monta At Odds at their Oddsiest — a crafty mix of soaring space-rock, frantic jazz drumming, fluttering sine waves, and post-rock echoes. "The Gods Are Conspiring" is the highlight, a rousing instrumental sound-piece that imagines an agitated Popol Vuh blissfully rocking out. Along with the other tunes on this EP, it's a fitting soundtrack for watching heavenly bodies appear to collide in space.