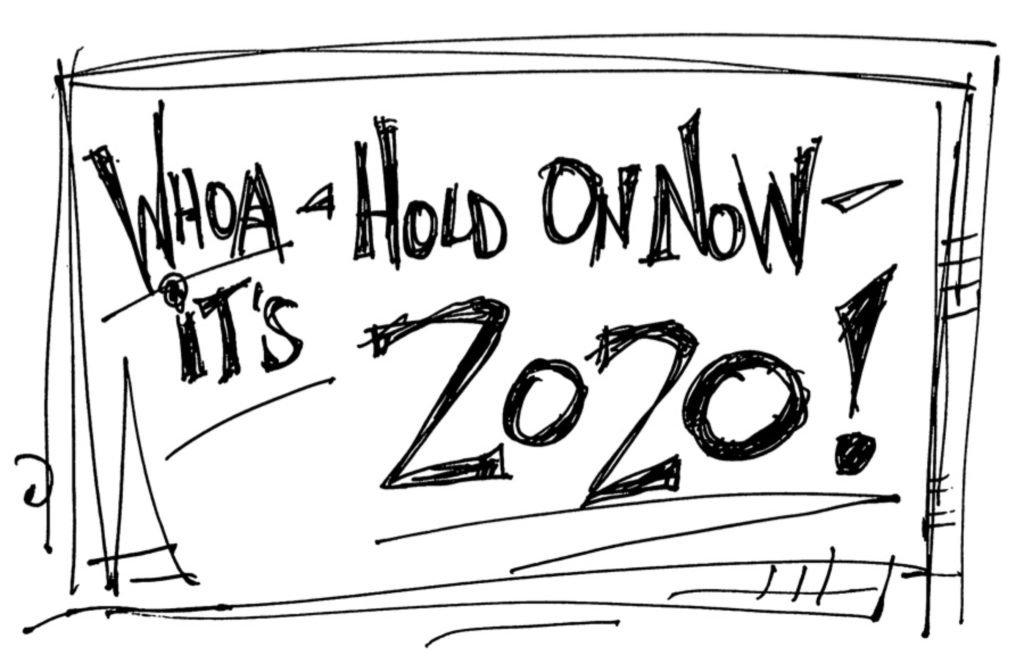 This month seems like the beginning of a year of transition but, when you think about it, every new year is a year of transition. The flick-of-a-switch from one numbered timeline to the next is arbitrary, but the anticipation of flicking does inspire reflection and taking of stock. This one's more potent as it's the start of a new decade. The self-examination was particularly intense this time.
2019 felt like an 'in-between' year — like I spent it preparing for something. There were accomplishments and significant moments (like marriage!), but looking back, I see a lot of things getting set up for the future.
What am I setting up? Well, this is the year of 8DSync and going all-in on music publishing and licensing. It's an area I've worked in for two decades but as a side-gig to other endeavors. Now with the help of my colleagues Miguel Bustamante and Craig Snyder, I have brought 8DSync to the forefront. The move makes sense — I am more knowledgable in music publishing than any other music business field, and it's what I do best. Time to lean in.
Beginning the year, I'm in the process of redesigning the 8DSync website from scratch. Not understanding what I was getting into, I decided to do this redesign myself. The site is looking great, but it's a work in progress as well as a time-consuming one. I'm adding many artist and release pages over the next few months.
Some of those artists represent new signings to the 8DSync roster. We start the year with these exciting additions: Kingston, New York's psychedelic Shana Falana, the UK roots-rock act Swampmeat Family Band, Jonathan Brodeur and his power-poptastic Bird Streets project, and a lovely downtempo label out of Ireland called WeGrowWax. There's also a new album from Scotland's The Little Kicks on the horizon. That's a lot of fantastic music to look forward to straight away.
Another of my projects due for a refresh is the 8D Industries label. We took a hiatus as the artists concocted releases, but now it seems likely we'll have new music from Monta At Odds, San Mateo, and More Ghost Than Man before next summer.
But what about Q-Burns Abstract Message, you ask? I'm working on a new batch of songs, too. It's all quite different, and I debate even using the Q-BAM moniker, though I probably will. I'd like to have a consistent slate of releases this year — perhaps a series or 3 or 4 song EPs — which will be a challenge. I must remind myself that we make the time, we don't find the time.
And there's a ton of writing in my future. The 8sided blog is an integral part of my life, and I enjoy working on it. I'm meeting cool new people through it, too (drop me a line anytime). I have internal debates over what this blog is exactly — is it a place for music industry commentary, or reviews and notes on the culture, or can I get personal, or can I get silly? I'm leaning towards it being all these things. But one thing I plan to examine repeatedly is how we've grown to rely on the biggest corporations in history for the dissemination of our art. How do we maintain our independence as the tech-giants chip it away? That's the theme of the blog if there is one.
For over a year, I've been threatening to start a newsletter. All the cool kids are doing it, and I want to hang with the cool kids. Well, it's ready to launch, and it has a name: Ringo Dreams of Lawn Care. What's that about, right? Just bear with me. The newsletter will be different than the blog though I'm not sure how yet. The first few ideas for issues are more personal, more story-oriented. I'll base it on my experiences juggling all these things — the publishing company, the label, Q-BAM — and the trials of working in the music industry from outside of the music industry. I'm sure I'll also write about interesting things I'm reading and watching and hearing, too. It will be good, and I'm setting the first issue free in a few weeks. Please sign up here.
What am I looking for in 2020? Well, besides the replacement of some of our world leaders (omg plz), I'd like more excuses to travel. I already have flights booked for returns to SXSW and MusicBiz, but would enjoy several more chances to ride on airplanes. I'd also like to pick up a couple more consultancy clients this year, whether artists or labels needing help with branding, positioning, and release strategies or companies looking for assistance with music publishing and rights management. And I'd love to advise and collaborate with a cool outsider artist, band, or label — one dedicated to a musical niche with no mainstream aspiration and struggling with being seen in 2020's ephemeral information whirlpool. If that's you and you're willing to do the work, then feel free to get in touch.
One last tidbit: I mentioned SXSW above. I'm thrilled to announce that there will be an 8DSync showcase at the festival this March, featuring many of the artists mentioned above. I'll have the details soon. I played SXSW a few times as Q-BAM in the past, but I've never been on the organizing side of a showcase. So that's exciting.
OK, you didn't ask for it, but now you're up to date on my activities. And, as a byproduct of this ramble, I have a clearer idea of what I'd like to do over the next few months. 2020 is the year when all that table-setting in 2019 pays off. Now I'd like to hear from you. What are your big plans? Is there an opportunity for us to work together, or bounce around some ideas? I'm game. I have the feeling this could be our year.